There are tons of reasons to start using a VPN today, but who should focus on connecting to a server in Australia?
Someone Who Doesn't Live in Australia
No matter what country you are from, here are the main reasons you might want to use an Aussie VPN server:
Get Freelance Gigs on Online Job Boards
With tons of Australian job sites, and many clients looking for Australian freelancers on platforms like Freelancer and UpWork, the world is your oyster.
There's just one problem – some clients might use filters that basically say only freelancers from Australia can apply.
That's entirely their choice and preference, but they might actually be open to working with Australian expats who are freelancers. And they might not realize the filters are stopping them from applying to such jobs.
An Australia VPN server can solve that problem easily. It hides your geo-location by masking your IP address, and making it seem like you're from Australia. So you can bypass any filters instantly.
Have More Fun When Gaming
Have online friends from Australia, but can't play together with them because the gaming server doesn't work in your region?
Tired of dealing with huge lag spikes and ping times every time you want to play on an Aussie server because you're from a different continent?
You can easily fix those problems by using a VPN for Australia.
The server will reroute your traffic, sending it directly to the gaming server in the country. Because of that, data packets between your device and the server will travel much faster, offering lower lag and ping times.
Unblock All the Aussie Entertainment You Want
Just like the US and the UK, Australia has tons of great TV series, shows, and movies you can binge on the weekend or your days off.
Unfortunately, not all of it is available outside the country – which is a huge problem for anyone interested in Australian entertainment, Aussie expats, and people from Australia who work abroad.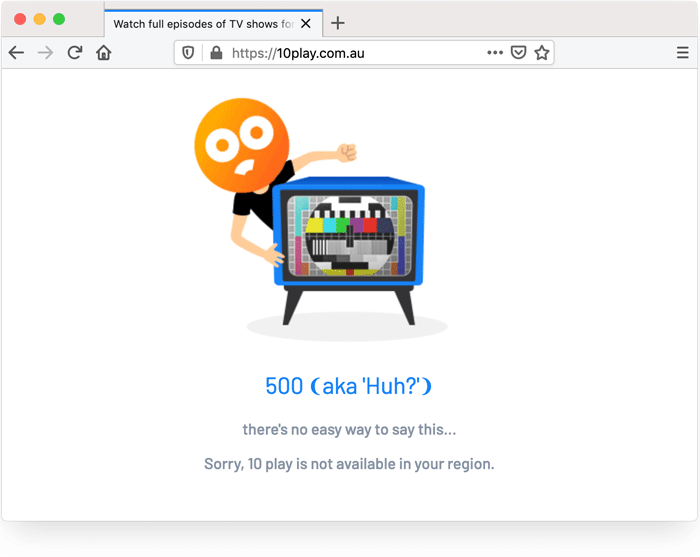 Some good examples include AnimeLab, tenplay, and 7plus. Connecting to those websites or trying to watch content on them will just lead to you seeing a message like this one:
Annoying, we know, but we can help you bypass those geo-blocks. Just connect to an Australia VPN server, and you'll get a local IP address. With it, you can trick any website into thinking you actually live in the country.
CactusVPN – Speedy & Secure Australia VPN Service
We have a high-speed server located in Australia, which is sure to provide you with a smooth, quality online experience. We also offer a Smart DNS service that gives you quick access to popular Australian websites:
Why CactusVPN?
Apps for Windows, Mac, Android, iPhone/iPad, Android TV, Amazon Fire TV/Stick
Browser extensions for Chrome and Firefox
You can use an unlimited number of devices with the same subscription
We unblock Netflix, BBC, Amazon Prime Video, and other 320+ geo-restricted websites
High-speed VPN servers in 20+ Countries
Each VPN server doubles as a proxy server
AES-256 end-to-end encryption
You get 6 VPN protocols: OpenVPN, IKEv2, SoftEther, SSTP, L2TP/IPSec, and PPTP
Enjoy safe and worry-free torrenting
We don't keep any logs at all
System-level and application-level kill switches and DNS leak protection
Use obfsproxy to hide your VPN traffic
Fully encrypt your DNS queries using DNS-over-HTTPS
Special Deal! Get CactusVPN for $3.16/mo!
And once you do become a CactusVPN customer, we'll still have your back with a 30-day money-back guarantee.
People Who Live in Australia
Here are the kinds of benefits you get to enjoy by using an Australian VPN server when you're in the country:
Protect Yourself from WiFi Vulnerabilities
Free, public WiFi is easy to get in Australia since it's available in pretty much all major cities. That offers a lot of convenience, but doesn't come without risks.
The main problem is that hackers have a very easy time exploiting both public and private WiFi networks.
Why?
Because public WiFi barely offers any encryption, so some of your traffic is in a readable format and can be intercepted. As for private WiFi networks, well – let's just say that the current encryption standard isn't reliable at all.
And Australia is a favorite target of hackers. Many Aussie brands are vulnerable to cyber attacks. In fact, the whole country is vulnerable to a huge attack.
Luckily, you can stay safe if you use a VPN for Australia. It encrypts all your traffic, making it completely impossible to spy on.
Stop Your ISP from Throttling Your Bandwidth
Bandwidth throttling is when your ISP decides to intentionally slow down your online speeds to prevent network congestion at peak usage times.
Of course, what they don't tell you is that they also use bandwidth throttling as a way to pressure you into paying more money for more expensive data plans and subscriptions.
And your ISP can easily do all that because they can analyze your data packets when you browse the web. If they detect specific packets from certain services (like Netflix, for example), they can start slowing down your speeds for them.
Well, with a VPN, they can't do that anymore. Since it completely encrypts your traffic, your ISP can't spy on your packets anymore. So, they can no longer selectively slow down your speeds for certain online services.
Secure Your Privacy on the Web
You might not think your privacy is in danger in Australia, but the truth is completely different.
In reality, the country has what is considered to be one of the most aggressive surveillance programs in the world. Intelligence agencies collect everybody's communications, and Australia even has laws in place that allow the authorities to force developers to reprogram apps so that they spy on their users.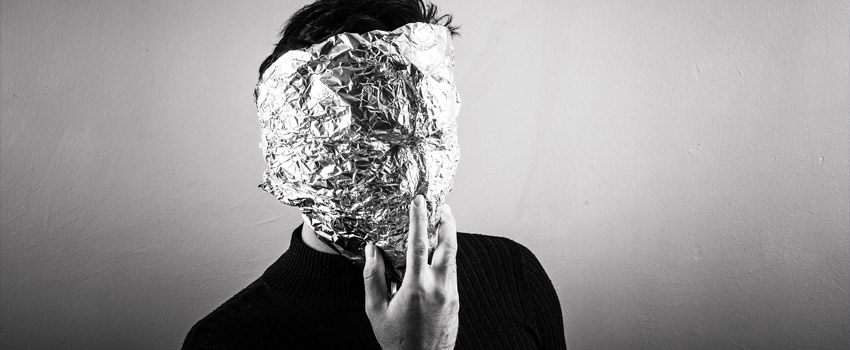 Besides that, ISPs and advertisers also violate your privacy by tracking all your digital footprints.
Don't worry, though – a VPN can encrypt all your traffic, and also hide your IP address, making sure nobody can monitor what you do online.
No More Annoying Firewalls
Firewalls are software that control inbound and outbound traffic on a network. They assign specific rules to the IP address you get when you connect to said network. Whenever you use it, you can't access websites that the firewall blocks.
Schools and workplaces often use firewalls to control what online content students and employees can browse – usually as a way of making sure they don't "slack off."
However, that's hardly fair, and pretty unproductive since firewalls might actually block the online service you use to help you study/work better (like YouTube, for instance).
With an Australia VPN server, though, you can get a new IP address, so you can quickly bypass any firewall.
And that's not all. The VPN also encrypts your traffic, stopping network admins from seeing what you do online.
Optimize Your VPN Speeds
When you use a VPN, your original web speeds tend to go down – either by a bit or a lot. It really depends on many factors – how strong the encryption is, how well-optimized the servers are, and how big the distance between your device and the server is.
There are things you can try to improve your VPN speeds, but by far one of the most efficient methods is connecting to a server that's physically closer to you.
So, if you only want to use a VPN to keep your data safe, and don't need to bypass geo-blocks, you can just use an Australia VPN server. It's in the same country as you, so data packets will travel much faster between your device and the server.
Say Goodbye to DoS/DDoS Attacks
How much of a threat are DoS/DDoS attacks in Australia?
A pretty big one, it seems. Back in April 2018, the country saw roughly 240 DDoS attacks per day.
Also, a DDoS hacker in Victoria was actually found to have launched attacks against a telecom business and a shopping center.
Even worse, people have launched DDoS attacks for something as simple as "being disrespected" on an online game.
So really, it's likely that some random run-of-the-mill hacker might try to shut down your web access just for fun.
Well, if you use a VPN, you don't need to worry about that. You'll get a new Australian IP address, so cybercriminals won't manage to find and target your network anymore.
Wait – Is VPN Legal in Australia?
Before you get excited about all the cool things you just learned you can do with an Australian VPN server, is it actually legal to use a VPN in Australia in the first place?
To keep things simple, yes – using a VPN in Australia is completely legal. There's no law against doing that.