Everybody should be using a VPN when they go online, but who exactly should use a VPN server in Germany?
Germany VPN for People Outside Germany
Here are the benefits of using a German server:
Get Access to German Entertainment
Quite a lot of German websites are only available if you're actually in Germany. Some good examples include Zattoo, Sat.1 GOLD, alleskino, and SUPER RTL.
So if you just want to perfect your German by watching native shows, or make the feeling of homesickness go away when you travel or work abroad, you might not be able to watch certain content.
Why?
Because content providers use geo-restrictions – content control tech that will block access to certain web pages or redirect you to other websites based on your IP address.
Don't forget – your IP address contains geo-location data, so it will immediately reveal what country you are from.
But as long as you connect to a German VPN server, you don't need to worry about that. You'll get a German IP address, so any website you connect to will think you live there.
Unblock Region-Locked German Gaming Servers
If you enjoy online gaming, you know how frustrating it can be to make online friends only to not be able to play with them because the server they're gaming on is region-locked – meaning people outside the country can't join in on the fun.
Well, if the server happens to be in Germany, you can bypass that issue by simply connecting to a VPN server in the country. It replaces your IP address, so it'd seem like you live there.
And that's not all – by using a German VPN server, you'll likely lower lag and ping times.
Your traffic will travel directly from the VPN server to the gaming server without detours like usual (your traffic bouncing through different countries before finally reaching the gaming server).
Get a German IP Address
Maybe you're an online freelancer who speaks German (perhaps even an expat), and you want to do customer support, content writing, or programming work for a company that's from Germany.
The problem is that many online job boards only let you apply to certain positions if you are physically located in Germany.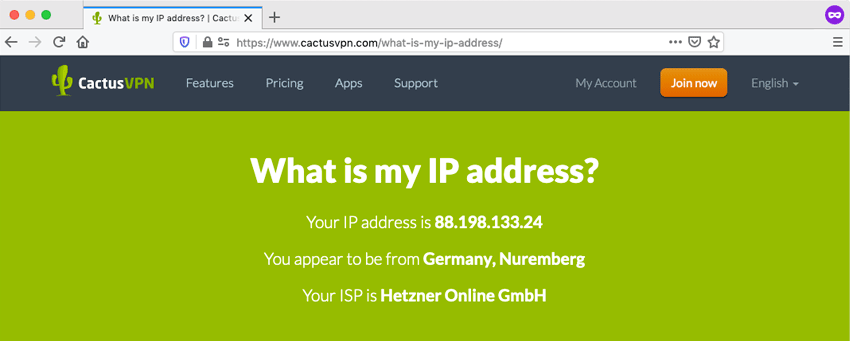 The filters are pretty annoying since they get in the way of your career. Plus, who knows – maybe German businesses would love to work with you, but they have no idea the filters restrict your access based on your IP address.
Well, the good news is that a Germany VPN server automatically replaces your real IP address with its own address when you connect to it.
So, any online job platform will think you're from Germany, not another country.
CactusVPN – The Right Germany VPN for You
Looking for a high-speed server with military-grade encryption?
We've got you covered – our VPN service offers exactly that AND other features that help you protect your privacy and data.
Besides a secure VPN, we also offer a Smart DNS service – basically, an easy way to get instant access to 30+ German websites that normally have geo-blocked content:
Why CactusVPN?
Apps for Windows, Mac, Android, iPhone/iPad, Android TV, Amazon Fire TV/Stick
Browser extensions for Chrome and Firefox
You can use an unlimited number of devices with the same subscription
We unblock Netflix, BBC, Amazon Prime Video, and other 320+ geo-restricted websites
High-speed VPN servers in 20+ Countries
Each VPN server doubles as a proxy server
AES-256 end-to-end encryption
You get 6 VPN protocols: OpenVPN, IKEv2, SoftEther, SSTP, L2TP/IPSec, and PPTP
Enjoy safe and worry-free torrenting
We don't keep any logs at all
System-level and application-level kill switches and DNS leak protection
Use obfsproxy to hide your VPN traffic
Fully encrypt your DNS queries using DNS-over-HTTPS
Special Deal! Get CactusVPN for $3.16/mo!
And once you do become a CactusVPN customer, we'll still have your back with a 30-day money-back guarantee.
Germany VPN for People Who Are in Germany
Use a German server to enjoy the following:
No More Bandwidth Throttling
If you're not familiar with the term bandwidth throttling, it's when your ISP decides to lower your online speeds for specific services – like online gaming, VoIP calls, or videos.
ISPs will normally use techniques like traffic shaping to throttle user bandwidth. Usually, they claim to do it to prevent network congestion and offer better stability.
However, the reality is that many ISPs do this as a way to "convince" you to buy more expensive data plans and subscriptions.
This is actually pretty common in Germany. Back in 2017, the Federal Network Agency had to forcibly stop Deutsche Telekom (one of the biggest ISPs in the country) from throttling streaming speeds for videos.
Unfortunately, that didn't seem to do much since a recent study found that Deutsche Telekom is still scaling back speeds for services like YouTube and Amazon Prime.
How does a German VPN service help with this?
Pretty simple – it completely hides your online traffic, stopping your ISP from spying on it. Without that info, they can no longer selectively throttle speeds for certain services.
Say Goodbye to Firewalls
Schools and workplaces like to use firewalls to control what kind of Internet content you can access. Basically, the network admin can link inbound and outbound traffic rules to the IP address the network assigns to your device.
So, it's very easy for the admin to block your access to websites like YouTube, Facebook, or Netflix.
In a way, that's understandable.
However, who's to say you can't relax with an episode of your favorite show during lunch break?
Or listen to relaxing tunes while working or studying?
The good news is you can quickly bypass any firewall by connecting to a Germany VPN server. It offers you a new IP address, so the firewall rules no longer apply to your device.
Also, the service encrypts all your network traffic, stopping network admins from seeing what you do online.
Enjoy Safer Torrenting
Torrenting is a tricky thing in Germany.
In theory, file-sharing isn't exactly illegal, but it can be if it involves copyrighted materials
Some people say you might get a fine of up to €1,000 while others say you'll only get the attention of ISPs and copyright agencies if you upload torrents, not download them.

But here's the thing – when you download a torrent, you automatically contribute to uploading it. That's what "seeding" is, after all.
Sure, you can limit it, but if you do that, private torrent communities and trackers might kick you out/off.
Well, a Germany VPN server solves that problem by hiding your IP address. Copyright agencies will no longer be able to see your real IP address in the Peers tab, and use it to find out personal info about you:
What city you live in.
What your ZIP code is.
Who your ISP is.
And neither will any seeders or leechers.
That's not all, though – a VPN will encrypt your web traffic too. So, your ISP won't know you're downloading torrents, meaning there's no reason for them to send DMCA notices your way, or terminate your service because you're breaking their ToS.
Avoid Annoying DoS/DDoS Attacks
A DoS or DDoS attack is when someone sends unwanted requests and traffic to your network, flooding it until they take you offline.
Normally, you wouldn't need to worry about that. You're an average online user, after all.
Still, there have been plenty of large-scale DoS/DDoS attacks in Germany – both on an energy company and on Wikipedia.
And DoS/DDoS attacks are pretty cheap – somewhere around $10 per hour, in fact.
So what's to stop an upset player on the server you play on from DoS/DDoS-ing you? Stuff like that has happened before, and they can easily target you since they can see your real IP address.
But if you use a German VPN server, you don't have to deal with that. It hides your IP address, so nobody can locate your network to flood it. Also, most VPN servers have anti-DoS/DDoS protection.
Stay Safe on WiFi
Both your home WiFi and public networks are not as safe as you might think they are.
For one, public WiFi usually doesn't use passwords. So, there's no encryption either – meaning any cybercriminal can monitor and intercept your traffic.
And unfortunately, even networks that use encryption aren't secure enough. That's because WPA2 (the standard for now) has huge security flaws.
Even worse, WPA3 (who is supposed to fix WPA2's problems) has its fair share of issues too.
And if hackers have no problem targeting German politicians, what chance do you have against them?
Well, you do have one – a VPN. It encrypts all your traffic, making it impossible for anyone to spy on your online communications.
If they try to take a look, they'll just see gibberish.
Get Stable VPN Speeds
If you only need to secure your online privacy and data, and have no interest in unblocking foreign content, connecting to a German VPN server will offer you better speeds.
Sure, there are tons of factors that impact your VPN speeds.
Still, the distance between you and the server is one of the main ones. After all, it takes longer for your packets to travel between the VPN client and server.
But if you use a VPN server that's in Germany, you won't need to worry about any potential slowdowns – especially if you also use a speedy VPN protocol (like IKEv2 or SoftEther).
Keep Your Privacy Intact
Even though the EU is pretty pro-privacy, they still allowed the German government to store the IP addresses of anyone who visits their websites.
That's not all – the government even wanted to go as far as storing everyone's browsing data. That, and there's a serious problem with the metadata retention law – basically, ISPs storing users' digital footprints for up to ten weeks.
Also, your ISP sees pretty much everything you do on the web – what websites you browse, how much time you spend on them, what you do on unencrypted platforms, and so on.
Now, allegedly ISPs might not sell that data to advertisers like they do in the US, but that doesn't mean you've got nothing to worry about. If they do it behind closed doors, it's not like anyone will tell you about it.
Even if German ISPs don't sell your data to advertisers, you'll still deal with spammy targeted ads since advertisers can track your online movements with your IP address.
It sounds bad, we know, but there's good news – using a Germany VPN server can help you protect your privacy. The service hides your IP address, and encrypts your traffic, so nobody will be able to spy on you.