VPNs can do wonders for your online experience, but who should use a server in France in particular?
1. VPN France Server for Someone Living in France
Here is why a French VPN server is exactly what you need:
Get Around Annoying Firewalls
Whether it's at work or school, you likely dealt with at least one instance of annoying firewalls ruining your day – like when the network admin decides to ban torrent sites campus-wide or block access to YouTube at work.
In a way, it's understandable – employers and teachers want to make sure employees and students do their fair share of work, and don't slack off.
But then again – who's to say you're slacking off? Maybe you just work or study better while listening to your favorite band on YouTube or SoundCloud. Or maybe you just want to relax during your lunch break with your favorite Netflix show.
Well, a VPN can help you bypass firewalls with ease. It hides your IP address, so you no longer have the IP address the network assigned you – you know, the one that has firewall restrictions linked to it.
Also, the service encrypts your traffic, so network admins will have no idea what you're doing online.
Stay Safe on Public WiFi
Free WiFi isn't a new thing in France – there are tons of hotspots you can connect to on the go.
But as convenient as that might be, it's also pretty dangerous.
Why?
Because public WiFi barely offers any security. Most networks don't require passwords to use them, which means there is no encryption in place to protect your data.
And with one in four WiFi networks being prime targets for cybercriminals, that's not exactly a risk you can take lightly.
Plus, check this out – hackers even managed to break into the French government's own secure messaging app. Exploiting public hotspots would be like child's play to them – especially since the networks that do offer encryption use WPA2, which is not secure at all.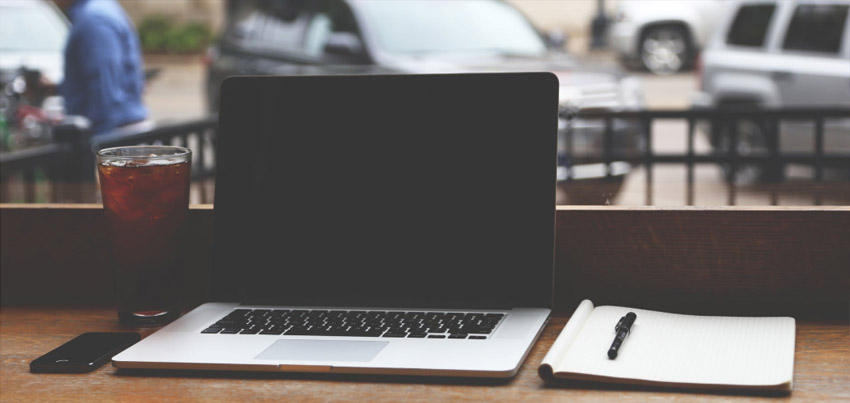 What does that mean for you?
Well, that any hacker can spy on your online communications if you use unsecured WiFi networks. They can see everything you do, and steal your:
Login credentials
Bank account details
Credit card numbers
But if you use public WiFi while connected to a France VPN server, you'll have nothing to worry about. It encrypts all your traffic, preventing any hackers from monitoring it.
Protect Your Privacy
Did you know your ISP can pretty much see everything you do on the web?
Yep, they know what websites you look up, how much time you spend on them, what files you download, and what you type on unencrypted websites.
Even worse, your ISP might share your browsing history with advertisers for a profit.
That mostly happens in the US, true, but let's face it – are ISPs from other countries not gonna want a piece of that pie?
It's not like they're going to be public about that.
Also, your IP address reveals a lot of sensitive info about you too:
What country and city you live in.
What your ZIP code is.
Who your ISP is.
We're not saying someone is gonna track you down with all that information, but they could use it to target your ISP with phishing and vishing attacks, for example.
The good news is that a VPN will both hide your IP address and encrypt your traffic. So, nobody can sneak a peek at what you do online, or track your online identity.
Enjoy Better VPN Speeds
If you're just looking to enjoy better online security without unblocking any foreign content, a French VPN server would work better for you than a foreign one.
Why?
Because it's closer to you than – say – a VPN server from Romania. It takes less time for data packets to travel between the server and the client on your device, so you can enjoy more optimized speeds.
Best of all – you can freely use resource-intensive protocols like OpenVPN (which is very secure) without having to worry about your speeds dropping too much.
Stop ISP Bandwidth Throttling
Never heard of bandwidth throttling?
To keep things simple, it's when your ISP decides to intentionally lower your online speeds.
They usually do that to make their services more stable, and to decrease network congestion at peak usage hours.

Of course, what they're not telling you is that they also use bandwidth throttling as a way to:
Avoid having to pay more money to buy better storage equipment.
Not so subtly pressure you into buying pricier subscriptions or data plans.
Normally, you ISP might throttle your bandwidth if you spend a lot of hours downloading files, streaming shows, talking over VoIP apps, or gaming online – or anything else that might eat up "too much data" according to their view.
Now we're not saying your ISP 100% does this.
But if you start noticing that your speeds go down at specific hours each day or week – well, there might be a real reason to be concerned.
If you use a France VPN service, though, you don't need to worry about any of that. It encrypts your online traffic, making it unreadable to anyone – including your ISP.
And since they won't see what you do online (it'll just look like you're browsing HTTPS websites), they won't manage to inspect your data packets, and throttle your speeds for specific online services.
Protect Yourself from DoS/DDoS Attacks
DoS/DDoS attacks involve someone flooding your network with unwanted traffic and requests – usually by using a botnet.
It sounds complicated, but it's surprisingly easy to perform DoS/DDoS attacks. In fact, for as little as $5 or $10 per hour, you can hire your own.
Why would anyone want to DoS/DDoS you, though?
Well, it usually happens when you play online games – sore losers are notorious for using DoS/DDoS attacks to force competing players off servers.
It can happen because of other reasons too, but gaming is usually the main one.
No need to worry about that if you connect to a France VPN server. It hides your IP address, so nobody can use it to locate your network in the first place.
CactusVPN – The VPN France Trusts
Looking for a quality and speedy server in France?
We've got just what you need. Our service offers high-speed 1Gbps servers with unlimited bandwidth, so you get to enjoy a smooth online experience.
We also have a Smart DNS that can give you instant access to 14 pre-unblocked French websites:
Why CactusVPN?
Apps for Windows, Mac, Android, iPhone/iPad, Android TV, Amazon Fire TV/Stick
Browser extensions for Chrome and Firefox
You can use an unlimited number of devices with the same subscription
We unblock Netflix, BBC, Amazon Prime Video, and other 320+ geo-restricted websites
High-speed VPN servers in 20+ Countries
Each VPN server doubles as a proxy server
AES-256 end-to-end encryption
You get 6 VPN protocols: OpenVPN, IKEv2, SoftEther, SSTP, L2TP/IPSec, and PPTP
Enjoy safe and worry-free torrenting
We don't keep any logs at all
System-level and application-level kill switches and DNS leak protection
Use obfsproxy to hide your VPN traffic
Fully encrypt your DNS queries using DNS-over-HTTPS
Special Deal! Get CactusVPN for $3.16/mo!
And once you do become a CactusVPN customer, we'll still have your back with a 30-day money-back guarantee.
2. France VPN for Someone Living Outside of France
This is what you can start doing today if you connect to a French server:
Unblock Any French Content You Want
Whether you're a French national living or working abroad, want to learn French or hone your skills at it, or just simply enjoy French entertainment, a VPN France server is really gonna come in handy.
Mostly because a lot of French websites only work in France – France tv, Molotov.tv, myCANAL, MYTF1, and the list goes on and on.
Platforms like those use geo-restrictions to prevent anyone from outside France from watching any content they want. Usually, they do it because they need to respect copyright or licensing regulations.
Well, those geo-restrictions work because the websites know your real IP address. And that little piece of information tells the platforms exactly what country you are from.
But if you use a France IP address, you'll bypass those geo-blocks in a second since the websites will just think you're sending connection requests from – well – France.
How do you get such an address?
Simple – just connect to a France VPN server. Once you do that, it replaces your IP address with its own address.
Get Less Lag and Better Ping Times
If you love online gaming, and the servers you play on are in France, using a French VPN server is gonna do wonders for your experience because it'll lower your ping times and lag.
Think of it this way – if you were from, let's say, Poland, when would your traffic get to the French gaming server faster?
When it originates in Poland, and bounces between two or three countries before finally reaching the server?
Or when it originates in Poland, and goes straight from the French VPN server to the French gaming server?
Plus, a VPN server in France can help you actually play on French servers if they – for some reason – use region locks.
Make It Seem Like You Live in France
If you're an online freelancer, and are looking to work with French companies, a VPN France server can help you get around annoying restrictions – specifically when job platforms won't let you apply to a gig because it has a filter that only accepts applications from France.
Who knows – maybe the employer doesn't have any issues with hiring someone from a different country to work remotely, but they have no idea how the platform's restrictions work exactly.
Well, the server will make it seem like you "live" in France, so you shouldn't encounter any obstacles.