There are tons of reasons to start using a VPN. But who exactly should use a Portugal VPN server?
Pretty Much Anyone Who Lives in Portugal
Here's exactly why you should connect to a VPN server that's in Portugal whenever you go online:
Enjoy More Privacy When Browsing
What you do online is just between you and your computer screen, right?
Nope. In fact, there are a lot of prying eyes monitoring your activities – your ISP, the websites you access, advertisers, network admins. The list can go on and on.
And using incognito mode won't do anything for your privacy. At most, it will protect it from people who you share your device/computer with.
How is your privacy violated, exactly?
Well, websites and advertisers will track your IP address online, spamming you with creepy ads. And your ISP can see what websites you browse, and share that info with advertisers or surveillance agencies.
But with a VPN, you're safe and sound. The service hides your IP address and encrypts all your traffic, making sure nobody can track your web browsing.
Protect Your Network from DDoS Attacks
A DDoS attack is when someone really has it out for you, and they use a botnet to flood your network with an overwhelming number of requests and unwanted traffic. What does that mean? That the attack will force your network offline, cutting off your web access.
You might also get targeted by DoS attacks which are less powerful but still equally annoying.
This tends to happen to businesses a lot – especially as a way of blackmailing them to pay a huge sum.
But you can be the victim of a DDoS attack even if you're a regular Internet user. Wannabe hackers can target you for something as simple as gaming-related disputes. And it's not hard for them to do that since DDoS attacks cost around $10/hour.
If you use a VPN for Portugal, though, you're gonna be safe. The service will hide your IP address, so these attacks won't manage to find your network.
Stop Bandwidth Throttling for Good
Bandwidth throttling is when your ISP decides you're using up too much data for online services – like downloading files, playing online games, or streaming content.
Basically, they will limit how much data you can use, effectively slowing down your Internet speeds. It's easy for them to do that since they can see what services you browse. After all, your traffic goes through their servers.
With a Portugal VPN, though, that's no longer a problem. The service will fully encrypt your traffic, making it impossible for ISPs to spy on it. At most, they'll just see the IP address of the VPN server you're using.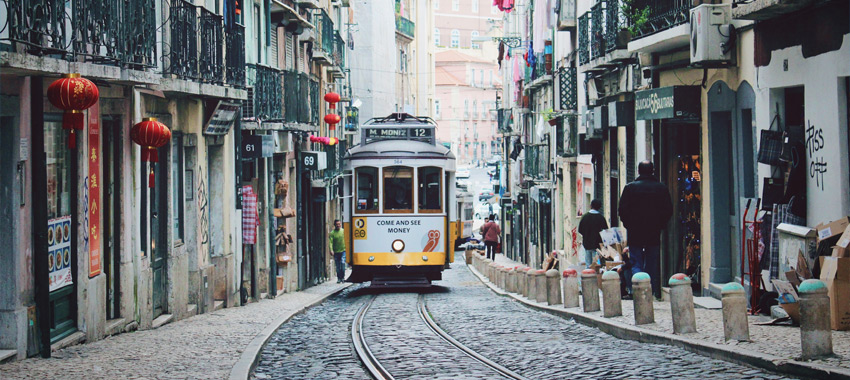 Avoid Hackers Like a Pro
WiFi isn't as safe as you would like to think. In fact, most networks have serious vulnerabilities which cybercriminals can exploit. What's more, hackers can also set up fake hotspots to trick your device into connecting to them.
The end result is pretty obvious – hackers will monitor your online communications to steal important data like credit card numbers and login credentials.
You might think you're safe if you're just careful enough. Cybercriminals shouldn't be able to target you in that situation, right?
Think again – they had no problem targeting Portuguese companies and a telecom provider, and also getting away with dozens of passwords and email addresses.
Don't worry, though – you can stay safe if you use a VPN. It will encrypt all your traffic, preventing hackers from spying on it. Yes, even if you use a fake hotspot.
Say Goodbye to Firewalls
Bummed out you can't use websites like Facebook and YouTube at work or school because the admins block them with firewalls?
No problem – just connect to a Portugal VPN server, and you'll bypass those restrictions in a second!
Since the VPN replaces the IP address the network assigned to you with a new one, the firewall's rules will no longer apply to you.
And best of all – the VPN will hide all your traffic by encrypting it. So, the network admins won't be able to see you're bypassing the firewall, meaning you won't get in trouble for it.
Get Optimal VPN Speeds
VPNs are great tools, but they can sadly lower your original online speeds depending on certain factors. It's not always a huge drop in speed, but it can be noticeable.
Well, if you don't need to use a VPN to bypass geo-blocks to unblock sites like Netflix and Hulu, we've got great news for you. You can actually use a VPN server in your country to get faster and more stable speeds.
The distance between you and the VPN server is actually one of the main factors that lower your VPN speeds. So using a server that's in the same country with you is obviously a good way to prevent serious slowdowns. It'll take less time for data packets to travel between your device and the server, after all.
CactusVPN – The Most Reliable VPN for Portugal
Apps for Windows, Mac, Android, iPhone/iPad, Android TV, Amazon Fire TV/Stick
Browser extensions for Chrome and Firefox
You can use an unlimited number of devices with the same subscription
We unblock Netflix, BBC, Amazon Prime Video, and other 320+ geo-restricted websites
High-speed VPN servers in 20+ Countries
Each VPN server doubles as a proxy server
AES-256 end-to-end encryption
You get 6 VPN protocols: OpenVPN, IKEv2, SoftEther, SSTP, L2TP/IPSec, and PPTP
Enjoy safe and worry-free torrenting
We don't keep any logs at all
System-level and application-level kill switches and DNS leak protection
Use obfsproxy to hide your VPN traffic
Fully encrypt your DNS queries using DNS-over-HTTPS
Special Deal! Get CactusVPN for $3.16/mo!
And once you do become a CactusVPN customer, we'll still have your back with a 30-day money-back guarantee.
People Who Are Outside Portugal
Even if you don't live in Portugal, there are plenty of good reasons to use a VPN server in that country:
Have More Fun When Gaming Online
Tired of not being able to play with your friends on the same server because it's region-blocked to Portugal?
No problem – just use a Portuguese VPN server to get a Portuguese IP address. With it, you'll be able to get around the geo-blocks with ease.
And that's not all. If you use a Portugal VPN for gaming, you can also get rid of high ping times and lag. The VPN server will route your connection directly to the gaming server. That's much faster than going through multiple servers before you reach the gaming server as you normally would.
Unblock Portuguese Websites
Some Portuguese websites block specific content (like audio clips and videos) outside the country, so that you can only watch them in Portugal. They do that because they only have the right to stream it in Portugal, not in other countries.
That's understandable, but not fair for you – especially if you're an expat who's homesick, or someone who wants to learn more about the Portuguese culture and language.
Well, the good news is you can instantly get access to those websites if you use a VPN for Portugal. Since it replaces your IP address with a Portuguese one, the websites won't blacklist your access anymore.
Get Around Filters on Job Boards
Whether you moved from Portugal to a different place but still want to work with clients in the country, or are a freelancer from another country who speaks Portuguese, you're gonna deal with job board filters.
Basically, platforms like UpWork, Freelancere, or PeoplePerHour let clients use filters to make sure only people from specific regions apply to their jobs.
It makes sense from the client's perspective, but hey – maybe they'd be more than willing to work with someone from a different country as long as they do a great job. But those filters won't let you prove that you've got what it takes.
There's an easy fix, though – connect to a Portugal VPN server. It gives you a local IP address which will let you bypass those filters.