How to Use a Crunchyroll Unblocker to Enjoy Any Anime You Want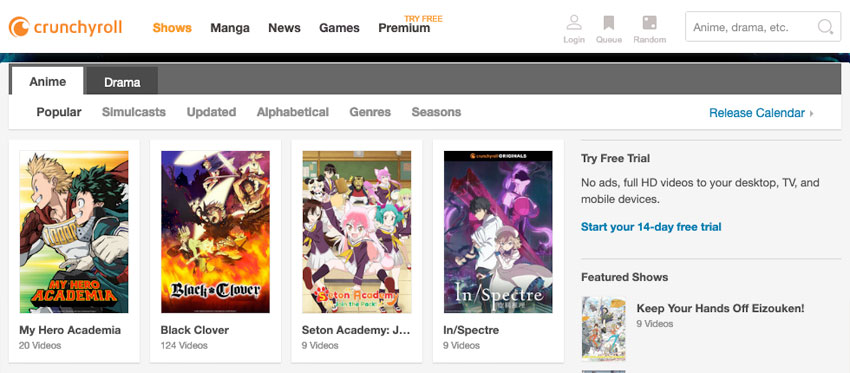 If you love anime and manga, you have likely heard of Crunchyroll by now. It's one of the most comprehensive online collections of these kinds of shows and content.
While it is an amazing platform, you will need to get Crunchyroll unblocked fully in certain countries to enjoy everything it has to offer.
Luckily, it's not hard to use a Crunchyroll unblocker at all. Check out this 5-minute article to find out what you need to do.
Why Do You Need to Use a Crunchyroll Unblocker?
Isn't Crunchyroll available in pretty much all countries?
It is, but you can't actually watch all Crunchyroll content anywhere in the world. The platform actually uses geo-blocks to restrict access to certain shows if you're in a specific country.
Crunchyroll themselves say they can't promise you will get access to every show/manga on their platform in your country.
And the differences are pretty big. According to a graph a Crunchyroll user made in 2017, the US library has the most shows (840+). If you're in Hong Kong, for example, you're basically missing out on almost 800 shows!
Why does the website do this?
Likely because they don't own the copyright to all the content on their platform. Also, they need to purchase licensing rights if they want to make anime/manga available in a specific country, and there might not be enough demand there to justify the investment.
Alright – So How Do You Get Crunchyroll Unblocked?
Getting around geo-blocks isn't as hard as you might think. Really, the only thing you need to do is hide your geo-location. And doing that is pretty simple. You actually have several methods you can try:
1. Use a Crunchyroll VPN Service
A VPN is an online service that hides your IP address and encrypts your traffic. In this case, the first part will be of interest since hiding your IP address lets you bypass geo-blocks.
How come?
Pretty simple – because your real IP address leaks geo data that reveals what country you are from.
So, all you'd need to do is connect to a US VPN server, and you'd be able to enjoy Crunchyroll unblocked to its fullest.
2. Unblock Shows With a Smart DNS
A Smart DNS is a simple online service that helps you quickly bypass geo-restrictions. It doesn't hide your IP address, but it does hide your DNS address which can also leak geo-location data.
And that's not all. A Smart DNS also intercepts your requests to Crunchyroll's website. When it does that, it replaces any information that might reveal your geo-location with new data that points to a whitelisted region – like the US in this case.
And to really be sure Crunchyroll's platform isn't on to you, the Smart DNS will also route all your traffic through different proxy servers all over the world (US ones in this specific scenario).
3. Try a Proxy Server
Proxies are pretty similar to VPNs since they also hide your IP address. They do that by intercepting your connection requests to Crunchyroll's website and forwarding them to the platform for you.
But a proxy server can also do something else. It can use its local cache to save visited web pages for further use. Basically, that means you'll get faster load times if you request a Crunchyroll web page the proxy server already saved. It won't need to forward your requests to the website, after all.
Which Option Offers the Best Results?
They all have their perks and their issues, so it's hard to say exactly which service you should use. But we can offer you a quick overview of their pros and cons to help you out:
VPNs
Smart DNS
Advantages
Can give you instant access to a large list of pre-unblocked websites.
Let you enjoy your original ISP speeds since there's no encryption.
Disadvantages
No encryption means you can't prevent bandwidth throttling or protect your privacy.
Don't hide your IP address, so you can't unblock Crunchyroll at work or school.
Proxy
Advantages
Help you get around geo-blocks and firewalls.
You can get faster load times thanks to local caching.
Disadvantages
Get overcrowded fast, and don't always offer great speeds.
The local caching ability doesn't automatically keep content up-to-date.
Proxy encryption is significantly weaker than VPN encryption. So you don't get the same level of privacy, and you're not 100% likely to stop bandwidth throttling.
Overall, we'd say you should use:
A Smart DNS when you don't mind the lack of privacy and want fast speeds.
A VPN when you want to prevent bandwidth throttling and also bypass firewalls.
And a proxy server when you want to bypass firewalls but don't care about encryption.
Of course, it's much better if you have access to all those services with an all-in-one platform. That way, if one doesn't work well for you, you can just try the other two.
CactusVPN – The Crunchyroll Unblocker That Has All You Need
With our service, you get the best of all words – a VPN, Smart DNS, and proxy servers!
If you just want fast speeds, you can use our Smart DNS to get instant access to Crunchyroll. Not only that, but you can also use it to unblock over 300 other websites from all over the world.
If you need some security, our VPN has got you covered. It has high-speed servers with unlimited bandwidth, military-grade encryption, and lightweight protocols.
And if you just want proxy functionality, we've got great news – our VPN servers actually double as proxies. And you can use them at no extra cost.
Special Deal! Get CactusVPN for $3.5/mo!
And once you do become a CactusVPN customer, we'll still have your back with a 30-day money-back guarantee.
To Sum It All Up
If you're an anime/manga fan, Crunchyroll is the place to be. And while it's available mostly worldwide, you won't get the same variety everywhere. Actually, the US library is the most extensive one.Don't worry, though – you can easily bypass geo-restrictions if you use a Crunchyroll unblocker – either a VPN, proxy server, or a Smart DNS service. Or, better yet, use an all-in-one service that offers them all.