How to block adverts on All 4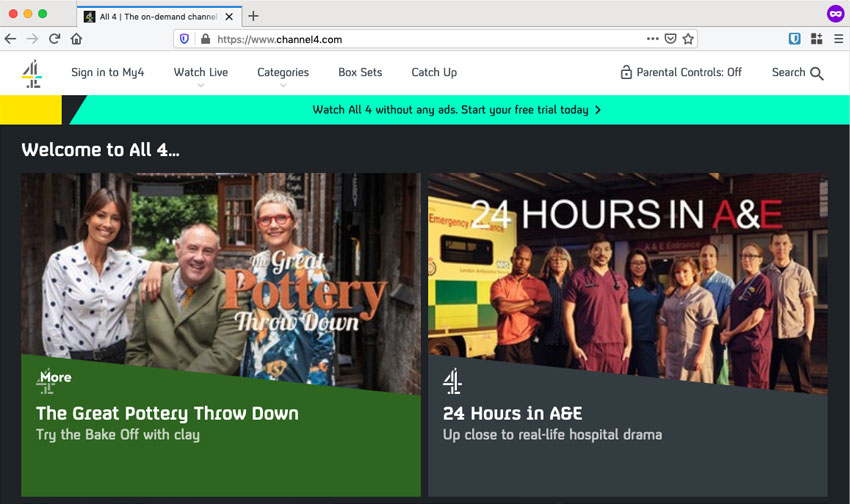 All 4 (formerly 4oD) is a fantastic free on demand service. It is available in web based or application versions. Today we will talk about web based version. The only downside are the adverts which can be numerous. It used to be fairly easy to get around the ads but as with many websites nowadays, a simple ad block does not fix the problem, so here is how to block adverts on All 4.

You can still block adverts but it takes a little more effort and it will only work for one video at a time. It is a simple process and currently as far as I can tell the only way to block them.
How to block adverts on All 4
The caveat to this method is you have to watch the opening advert but after that there will be no more. If you are watching an hour long programme then this can save you a lot of hassle.
All you have to do is have an ad block extension/add-on installed in your browser of choice. Find the video you wish to watch. Disable your ad block and watch the initial advert (which is usually around two minutes long). After the advert has finished playing, enable your ad block extension/add-on once again. That is all there is to it, it is by no means perfect but it is the only solution at present.
Unblock All 4 with Smart DNS
All 4 is a fantastic service and it is a shame about the ads. Don't let them put you off though. With this method you can block adverts on All 4 and have an enjoyable viewing experience with all of the great content the Channel 4 network has to offer (which is a whole lot). If All 4 is blocked in your country, you can unblock it using our Smart DNS services.