How to Get Pandora Unblocked Quick and Easy Today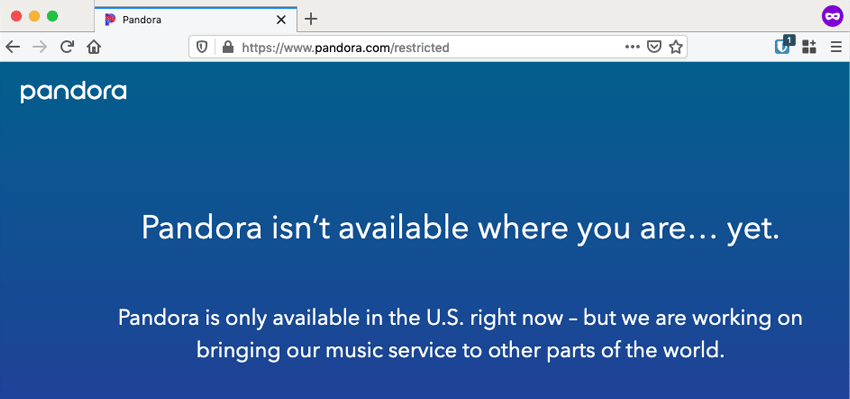 Pandora is an amazing music platform. It's free to use, and allows you to create up to 100 unique radio stations which you can personalize as you see fit.
Too bad you have to get Pandora unblocked first if you live outside the US.
Luckily, that's not hard to do at all if you follow the advice in this article.
Can't You Watch Pandora Outside US Regions?
Even though you used to be able to use Pandora Radio outside the US, the company eventually shut down access to international users back in 2007. And in 2017, the platform terminated its services in Australia and New Zealand – its last two international markets – likely because their CEO stepped down, and they had to reduce their costs.
So, you can only use the service in the US now. If you try to connect to the website from any other place, you'll just get the following message:
"Pandora isn't available where you are… yet."
That "yet" is hopeful, but it's not much. Waiting around ten years until the executives decide to make Pandora Radio available in your country isn't worth it.
But what can you do? Geo-restrictions prevent you from using the service by blacklisting your geo-location.
Don't give up hope just yet – there are ways to bypass them.
Here's How to Instantly Unblock Pandora Radio
The website can block your access because it knows what country you are from. So, you obviously need a way to hide that info from Pandora Radio.
Sounds pretty difficult, right?
Well, it doesn't have to be – at least if you use the following methods:
Use a Proxy Server
With a proxy, you can easily hide your IP address to bypass geo-restrictions. Just use a proxy server in the US, and you're good to go.
Plus, a proxy server has a local caching ability. That means the server can save website pages on its local cache. Whenever you request a page the proxy saved, it will deliver it faster to you.
Run a VPN Connection
A VPN is an online service you can use to hide your IP address. Unlike a proxy server, it offers stronger encryption that lets you better protect your traffic and data. Also, it increases your odds of bypassing bandwidth throttling.
To unblock Pandora Radio with a VPN, all you need to do is connect to a US-based VPN server. Once you do that, the server replaces your IP address with its own address, so Pandora will think you're sending connection requests from the US.
Unblock Pandora With a Smart DNS
A Smart DNS is an online service that replaces your original DNS address (which can leak your geo-location) with the address of a dedicated DNS server. The Smart DNS provider will then use multiple proxy servers to unblock specific websites for you.

What's more, the service will also intercept your connection requests to Pandora Radio, and replace any info found in them that can reveal your geo-location with data that points to a place in the US.
The best thing about using a Smart DNS is that it doesn't encrypt your traffic. Because of that, there's no risk of your download speeds going down.
What's the Best Way to Get Pandora Unblocked?
That's up to you to decide. Each service has its pros and cons, so it depends on what your preferences are.
Here's a quick overview that might help have an easier time deciding:
VPN Services
Advantages
Hides your IP address, allowing you to bypass geo-blocks and firewalls.
Also encrypts your traffic, preventing ISPs from throttling your bandwidth.
Proxy Servers
Advantages
Easy to use, and can help you quickly mask your geo-location to bypass geo-restrictions.
That, and they have a local caching ability that can result in faster page loading times.
Disadvantages
Proxy servers don't offer you high security like VPNs do, so they aren't as efficient at preventing bandwidth throttling.
Smart DNS Services
Advantages
Allows you to enjoy your original ISP speeds and bypass geo-blocks.
Disadvantages
Doesn't encrypt your traffic at all, meaning it can't protect your privacy and prevent bandwidth throttling.
Also, you can't bypass firewalls since the service doesn't hide your IP address.
Keep in mind you can always just get a service that offers you access to all options. That way, you'll always have an option to fall back on if one service doesn't unblock Pandora Radio for you for some reason.
Get Pandora Unblocked and Start Enjoying It Now With CactusVPN
We provide a user-friendly, intuitive, and secure solution that allows you to quickly unblock Pandora anywhere in the world.
With CactusVPN, you get all the services you need:
A VPN that offers military-grade encryption, high-speed servers, and unlimited bandwidth.
VPN servers that double as proxy servers, which are very easy to set up.
A Smart DNS that lets you unblock Pandora Radio alongside 300+ other websites like Netflix, Hulu, Napster, and iHeartRadio.
Plus, we offer VPN apps for the most popular platforms, so you can listen to your favorite music anywhere – on the bus, at home, or at work.
So go ahead and choose one of our subscription plans, and get Pandora unblocked today.
On What Devices Can You Get Pandora Unblocked using CactusVPN?

Windows

macOS

iOS

Android

Android TV

AppleTV

Roku

Amazon
Fire TV

Fire TV
Stick

Samsung
Smart TV

XBOX
Stick
Special Deal! Get CactusVPN for $3.2/mo!
And once you do become a CactusVPN customer, we'll still have your back with a 30-day money-back guarantee.
To Sum It All Up
Pandora Radio is a great platform for anyone who loves music and the idea of personalized radio stations.
Too bad it doesn't work outside of the US due to geo-restrictions.
There's good news, though – you can get Pandora unblocked with ease by just using a VPN, Smart DNS, or proxy server.