Watch CBC in USA Today (3 Simple Options)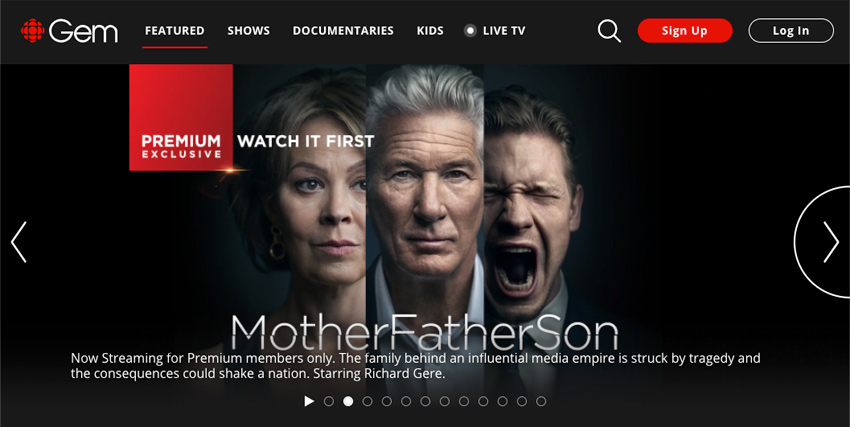 It's no wonder you'd want to watch CBC in USA. It has so many amazing shows – Schitt's Creek, How to Buy a Baby, Anne With an E. And that's just barely scratching the surface.
Unfortunately, if you're not in Canada, you can't watch those hit series. Don't worry, though – we'll show you a nice workaround.
Why Can't You Watch CBC in USA?
It's all due to geo-restrictions (or "geo-fencing" as CBC calls it). The website uses them to restrict access to some of its content if the user isn't from Canada.
CBC likely does that because they need to respect copyright agreements. If they don't do that, they might get sued.
Also, they probably don't want to deal with huge licensing fees. They'd normally need to pay them in every single country if they were to make the content available worldwide. And if there isn't enough demand for their content there, it wouldn't be very profitable for them.
True, right now, you can watch some content on CBC even if you are in the US. But if you try to binge more popular shows or stream some content without being in Canada, you'll just get this message:

How to Watch CBC in USA (Simple and Fast Options)
You'd think bypassing geo-blocks is difficult stuff, but that's really not the case. All you need to do is hide your geo-location, and you're good to go. And, luckily, you've actually got three pretty simple ways to do that:
1. Smart DNS Services
These are online services that hide your DNS address and intercept your connection requests when you try to access CBC's website.
They hide your DNS address because it can actually leak geo-location data. And they intercept your connections to remove any information that could leak more of your geo-data. They also replace it with new info that points to a location in Canada.
Besides that, a Smart DNS will use various proxy servers around the globe to route your traffic. In this case, it would use servers in Canada to further hide your geo-location.
2. VPNs
VPNs are online services that encrypt your traffic and hide your IP address. The second part is of interest here since it helps you bypass geo-blocks.
Here's how it all works:
You connect to a VPN server that's in Canada.
The server replaces your IP address with its own address.
CBC will only see the VPN server's IP address.
The website will think you're from Canada, and won't apply geo-blocks to you.
3. Proxies
Proxy servers do the same thing as VPNs – they hide your IP address to help you bypass geo-blocks. However, they don't offer strong encryption like VPNs.
On the other hand, they have a local caching ability. Basically, that means a proxy can save visited web pages on its local cache. If you request a web page from CBC that's on the local cache, the proxy can deliver it faster to you since it doesn't need to forward your requests to the web. The content is already there.
What's the Best Option?
It's hard to say. All these services serve a specific purpose, and they all have their own drawbacks. We put together a quick list to make it easier to understand what each service does best:
A Smart DNS is ideal if you only want to unblock CBC at home. The service doesn't use encryption, so it doesn't slow down your speeds. Because of that, though, it also means it doesn't protect you from bandwidth throttling. Also, it doesn't hide your IP address, so you can't bypass firewalls that block CBC at work or school.
VPNs are great for unblocking CBC and enjoying privacy too. Since they encrypt your traffic and hide your IP address, they help you stop bandwidth throttling, unblock CBC, bypass firewalls, and also hide that you're circumventing firewalls from the network admin. However, they can slow down your original ISP speeds a bit.
Proxies are a good backup plan if the Smart DNS doesn't work. They help you unblock CBC, and don't slow down your speeds too much since their encryption is weaker than VPN security or even non-existent. That does mean you're likely to experience bandwidth throttling, and won't enjoy great privacy. Also, the archived content can sometimes be outdated.
If it's still hard to decide, you should consider getting a service that gives you access to all of them at once – like CactusVPN, for instance.
Watch CBC in USA Right Now With CactusVPN
With our service, you have everything you need in one place.
Our VPN offers military-grade encryption that secures all your traffic against any spying and throttling. It also has high-speed servers in Canada with unlimited bandwidth, and lightweight protocols (IKEv2, L2TP/IPSec, SoftEther) that keeps your speeds smooth.
Our Smart DNS helps you unblock CBC alongside 300+ other websites from around the world.
And our proxy servers come at no extra cost for our customers since our VPN servers actually double as proxies.
Not sure how to stream CBC in USA with CactusVPN?
It's a walk in the park – just sign up, download our apps, connect to our Canadian servers or set the Smart DNS to the CA region, and you're good to go!
Special Deal! Get CactusVPN for $3.16/mo!
And once you do become a CactusVPN customer, we'll still have your back with a 30-day money-back guarantee.
Conclusion
You can't watch CBC in USA because of geo-blocks. It's a bummer, but at least you have ways to get around them – VPNs, Smart DNS services, and proxies. If you want to really get a good experience, though, you should use a service that offers all those options.