There are tons of ways VPNs can improve your online experience. But just who stands to benefit the most with a Swiss VPN server?
People Who Live in Switzerland
Here are the main reasons to use a VPN server that's in your country:
Keep Your Network Safe from DoS/DDoS Attacks
A DoS or DDoS attack is when someone tries to flood a network with tons of unwanted requests and traffic – to the point where they force it offline.
Some cybercriminals even go as far as orchestrating RDoS attacks – Ransom Denial of Service attacks. Basically, they ask the victim to pay up to stop their networks from being flooded.
Unfortunately, this is nothing new in Switzerland. Many online retailers in the country got targeted by both DDoS and RDoS attacks.
And even one of the most secure email providers in the world (ProtonMail) which is from Switzerland got targeted with high-profile DDoS attacks.
You'd think you as an average online user would be safe, but nope – according to some English-speaking users on a Swiss forum, even kids can become the victims of DDoS attacks.
Contrary to popular belief, DoS/DDoS attacks are not that hard to perform. If you want, you can actually buy them for as little as $5 or $10 per hour.
How does a Swiss VPN server help with this?
Simple – it hides your real IP address, so nobody can use it to locate your network. Without that info, they can't flood it anymore.
And don't worry – reliable VPN providers use anti-DoS/DDoS protection, so there's nothing to worry about.
Stop Bandwidth Throttling
In a nutshell, bandwidth throttling is when your ISP intentionally slows down your online speeds to either prevent network congestion or optimize their services.
Or at least that's the "official" story.
A lesser-known, darker fact about bandwidth throttling is that some ISPs use it to pressure their customers to buy pricier data plans and subscriptions.
That, and they also use it as a way to save money. They don't need to buy more expensive equipment if they can just lower your bandwidth, after all.
Now, Swiss ISPs aren't exactly known to do this.
But if you ever notice your speeds going down on a regular basis (especially every week), there's plenty of reasons to feel concerned.
You could talk with your ISP about that, but a much easier and more effective solution is to just use a Swiss VPN server.
It encrypts your traffic, so your ISP can't see what you do online. And since they can't see your data packets, they can't associate them with specific online services, so they can't actually throttle your bandwidth.
Protect Your Privacy
Privacy laws are very decent in Switzerland, so you normally wouldn't need to worry about anything, right?
Well, not exactly.
Advertisers, for one, can still use your IP address to track your online movements, and spam you with creepy "personalized" ads.
Also, it seems that the Swiss government has a different idea of what online privacy means. New legislation actually encourages government surveillance – to the point where the FIS can spy on private online communications by monitoring emails and online traffic.
And since your ISP can see everything you do online, it's not hard for the FIS to do that. They just need to ask them to hand over all your browsing history data.
Oh, and while torrenting is perfectly okay in Switzerland, that doesn't mean it's good for your privacy. Don't forget – anyone can look up your IP address in the Peers tab, and use it to find out:
What country and city you live in.
What your ZIP code is.
Who your ISP is.
That's not a lot to go on, but here's a legit concern – what if a cybercriminal were to use that info to target your ISP with vishing and phishing attacks? That can easily result in user data leaks.
But if you use a Switzerland VPN server, you don't need to worry about that.
It hides your IP address, so nobody can track your digital footprints with it anymore.
Also, it encrypts your traffic, making it indecipherable for anyone trying to take a peek.
Stay Safe on WiFi
Public WiFi is widely accessible, but also very dangerous. Most networks don't use any encryption.
To be accurate, one in four networks don't have any protection in place.
So, hackers can easily spy on all your online communications if they want to.

Starbucks is a good example of that. According to a report, Starbucks cafes in Switzerland significantly endanger user data with their lax security standards.
And get this – not even your home WiFi is as safe as you want to believe.
Right now, WPA2 is the standard encryption, and guess what? It's not safe at all.
In fact, not even WPA3 is free of problems.
And with nearly a million Swiss residents getting hit by cyber attacks, it's pretty clear you can't just continue lying to yourself that everything is fine, and that nobody can compromise your network.
So, what should you do then?
Well, a VPN can help you secure all your traffic and data – both on your home WiFi and on public, unsecured networks. Since the service encrypts all your traffic, no hacker can eavesdrop on it.
If they try to do it, they'll just see random strings of numbers, symbols, and text.
Get Around Annoying Firewalls
Whether it's at work or school, you probably had to deal with a firewall that stopped you from browsing your favorite websites at one point.
Basically, the network admin assigned inbound and outbound traffic rules to your IP address – the address you get when you connect to the school or workplace's network.
You know the kinds of rules I'm talking about – rules that stop you from browsing Facebook during your break, or watching YouTube while you eat your lunch.
Well, the good news is that connecting to a VPN server means you get a completely different Swiss IP address. So, the firewall's rules no longer apply to you.
And that's not all – the VPN also encrypts your traffic, meaning you don't need to worry about the network admin seeing what you do online, and telling the higher-ups or teachers about it.
Get Better VPN Speeds
If you're only looking to secure your online data, and don't need to unblock foreign content, connecting to a Swiss VPN server is the best way to get optimal speeds.
The truth is that a VPN can sometimes slow down your speed – especially if it uses powerful encryption, and if the server is too far away from you (among other things).
So, one way to make sure you don't experience slowdowns that are too big is to just connect to a server in your own country. It'll take less time for data packet transfers between the client and server to take place.
CactusVPN – The Right Switzerland VPN for
If you're looking for a secure, reliable, and fast VPN service, CactusVPN is just what you need.
Get Access to a Smart DNS Too! A Smart DNS is an online service that gives you instant access to pre-unblocked websites. With it, you can unblock:
Why CactusVPN?
Apps for Windows, Mac, Android, iPhone/iPad, Android TV, Amazon Fire TV/Stick
Browser extensions for Chrome and Firefox
You can use an unlimited number of devices with the same subscription
We unblock Netflix, BBC, Amazon Prime Video, and other 320+ geo-restricted websites
High-speed VPN servers in 20+ Countries
Each VPN server doubles as a proxy server
AES-256 end-to-end encryption
You get 6 VPN protocols: OpenVPN, IKEv2, SoftEther, SSTP, L2TP/IPSec, and PPTP
Enjoy safe and worry-free torrenting
We don't keep any logs at all
System-level and application-level kill switches and DNS leak protection
Use obfsproxy to hide your VPN traffic
Fully encrypt your DNS queries using DNS-over-HTTPS
Special Deal! Get CactusVPN for $3.16/mo!
And once you do become a CactusVPN customer, we'll still have your back with a 30-day money-back guarantee.
People Who Are Outside Switzerland
If you don't live in Switzerland, there are still some good reasons to use a Swiss VPN server:
Lower Your Ping and Lag When Gaming
Online gaming can be tons of fun – well, until you have to deal with huge lag and ping times that make any match simply unplayable.
That can happen if the server you're playing on is in Switzerland, and you're from Japan or the US, for instance. It's gonna take a long time for your data packets to reach the gaming server, after all.
But if you connect to a Switzerland VPN server, you get to route your traffic directly to the gaming server.
And it goes without saying that a Swiss VPN will help you unblock region-locked gaming servers in Switzerland too. The service hides your IP address, making it seem like you're actually in Switzerland.
Get a Swiss IP Address
This can be very helpful if you need to trick online job boards into thinking you live in Switzerland to bypass filters.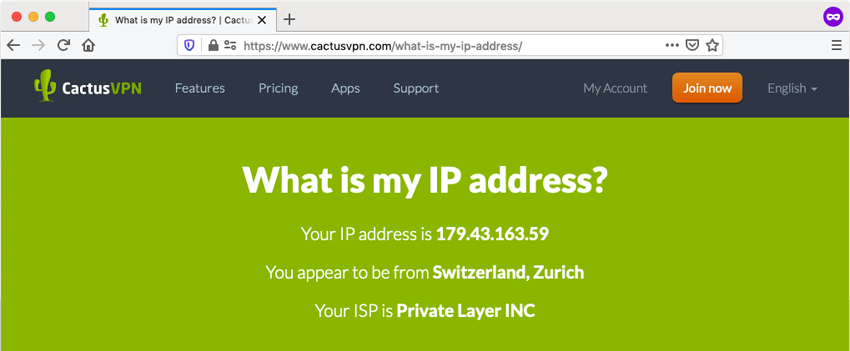 After all, if a potential client sets a filter to get job applications from people in Switzerland, the platform won't let you apply for jobs if you're from outside the country.
Which is a huge shame. Who knows, maybe you and that client would end up working together for years once they saw how skilled you really are.
But those annoying filters are standing in your way.
Well, no need to worry – a Swiss VPN server replaces your real IP address with a brand new one that tricks any website into believing you're in Switzerland.
Unblock Swiss-Only Content
Not all Swiss websites are available worldwide. Some of them only work in Switzerland, while others geo-block content on their web pages, making it unavailable to anyone who doesn't have a Swiss IP address.
Some good examples include PLAY RTS and Teleboy.
That can be pretty annoying if you're a Swiss traveling or working abroad, a Swiss expat who lives in a different country, or just someone who wants to learn more about the Swiss language and culture.
The good news is that a Switzerland VPN server can help. It automatically replaces your IP address with its own address when you connect to it, so you can bypass any geo-restrictions with ease.