Why Is Google Asking for Captcha When You Use a VPN?

When you use a VPN, Google CAPTCHA might take you by surprise. One moment you're freely looking up things you want on Google, and the next your screen is filled with the "We're sorry …" message.
If you're curious why this happens when you use a VPN, we've got you covered. Here's all you need to know about that.
What Is CAPTCHA?
CAPTCHA is a type of challenge-response test which normally consists of a simple puzzle that is used by websites to filter out bots from actual human users.
CAPTCHAs can be used when granting users access to a website or website feature, when users create an account or log into their account from different devices, or when users want to post a comment.
A good example of CAPTCHA is when you're asked to enter a randomly-generated text when signing up or trying to post a comment. More advanced CAPTCHAs might ask you to choose certain pictures from a list that match a specific description.
Why Does Google Use CAPTCHA?
The main reason Google (as well as any other website) uses CAPTCHA is because it's an easy way for them to keep spammy traffic and bot comments at bay. Essentially, CAPTCHA protects Google's servers from abusive traffic. Plus, it also helps Google secure their users' accounts.
Why Do You Need to Deal with Google CAPTCHA When Using VPN Services?
Google asking for CAPTCHA resolves whenever you're online is actually pretty normal if you're using a VPN – especially if it's a VPN that uses shared IP addresses.
Since you're sharing the server IP address with multiple other VPN users, that means you won't be the only one sending search queries to Google's search engine. Instead, Google will think multiple search requests are being sent from your IP address and device.
To Google, that looks like spam. So, it asks you to fill the CAPTCHA requests to prove you are actually not some computer program sending out spam.
Can Google CAPTCHA Requests Compromise Your Privacy?
It's natural to worry that Google asking for CAPTCHA when using a VPN service means your Internet privacy has been compromised. However, you can relax – just because you're asked to fill out a CAPTCHA form doesn't mean Google is able to fully track your online activities.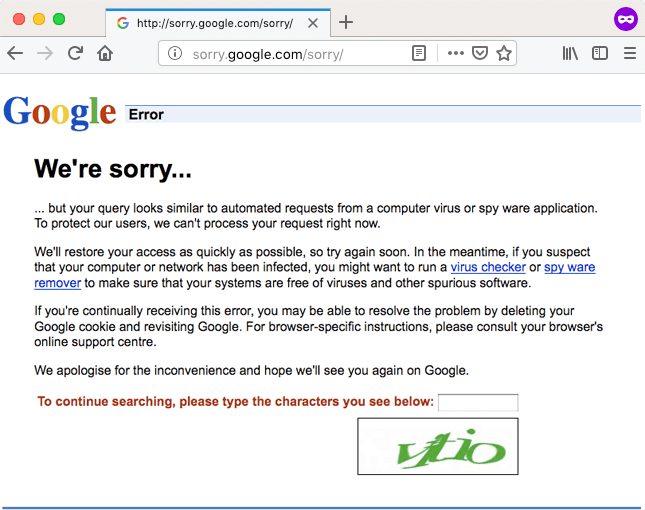 Don't forget – since you're likely using a shared IP address, that means there are many other users interacting with Google with the same address at the same time. So, even though Google might keep logs regarding online searches, they still wouldn't be able to associate a specific search query with you.
Plus, if you're also using a VPN service like CactusVPN that offers powerful encryption, Google will have an even harder time pinpointing who made a certain search query.
Is There Any Way to Bypass the "VPN Google CAPTCHA" Issue?
Well, one thing you could try is using a VPN that offers dedicated IP addresses instead of shared IP addresses. This way, only you will be using the IP address, and won't be sharing it with other VPN users. In theory, if you use such a VPN, Google CAPTCHA should no longer be a problem.
Of course, that's not 100% guaranteed, and you still might be asked to fill in a CAPTCHA if you are using a VPN anyway. Also, you should keep in mind that a VPN service that offers a dedicated IP address is generally much more expensive, and less secure for your privacy since it's easier to associate search queries with your address.
Another thing you might try is using unCaptcha – code on GitHub that can allegedly solve Google's audio CAPTCHA with around 85% accuracy. However, it is worth noting that setting unCaptcha up can be a bit complex, and the developers clearly stated that they won't be maintaining the code, and that they don't guarantee it will continue working well when Google introduces new CAPTCHA updates.
So, Is It Worth Trying?
Overall, not really. Solving a Google CAPTCHA doesn't take too long, and you normally don't have to deal with too many CAPTCHAs at a time.
Still, if you really want to make sure that when you use a VPN CAPTCHA requests are not a problem, and you don't mind the extra effort or money, you could try to get a dedicated IP address or use the unCaptcha code.
Need a VPN That Protects Your Online Identity?
CactusVPN has got you covered – we offer high-end AES encryption, secure VPN protocols like OpenVPN and SoftEther, and we don't keep any logs at all.

What's more, we provide access to high-speed servers and unlimited bandwidth. So, even if you do happen to come across one or two Google CAPTCHA forms, you'll be able to solve them in seconds.
Special Deal! Get CactusVPN for $3.5/mo!
And once you do become a CactusVPN customer, we'll still have your back with a 30-day money-back guarantee.
The VPN CAPTCHA Problem – Conclusion
When you use a VPN, Google CAPTCHA forms might pop up sometimes when you perform online searches. That's usually the case when you use a VPN with shared IP addresses since Google thinks that multiple search requests are coming from your device.
While you could theoretically bypass Google asking for CAPTCHA resolves by getting a dedicated IP address or using the unCaptcha code, the extra costs and effort aren't really worth it since solving a Google CAPTCHA takes a few seconds at best.