How much does VPN slow down Internet connection?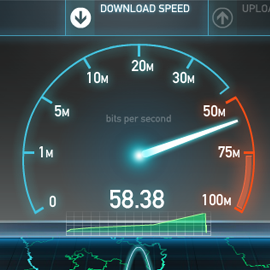 A VPN allows you to hide your IP information and to encrypt your connection so hackers, phishing scammers and fraudsters can't access your private information when you are surfing on the Internet in a public hotspot. Another reason why you would use a VPN is to access sites that are forbidden in certain countries. These could be movie websites, political news sites and even financial news websites. Despite these advantages, many potential VPN users are concerned with how VPN affects Internet speed. So does a VPN slow down internet?

Actually, there are more than a few factors that could influence the speed of your Internet whether you are behind a VPN server or not. The "does VPN make internet slower?" question is not a simple yes or no answer.
Why does VPN slow down Internet connection?
Distance to the VPN server
The factor with the most influence is, of course, the Internet speed you have and the distance between your location and the VPN server. For instance, if you are connecting from China to a New York VPN server, experiencing some loss of Internet speed is expected. Look for a VPN provider with server locations nearest to you. Find server locations in countries near yours. The distance between your country and the server country does affect the speed with which the Internet flows through the VPN. This slowness is due to the time it takes a data packet to travel back and forth over the VPN.
VPN server load
Another influencing factor is the VPN server load. Mainly, this is a problem of free VPN service providers. This can happen if there are a lot of users connected to this server at this particular moment. In this case try to connect to a different server from the same country.
VPN protocols and encryption
There are 4 basic VPN protocols. Most of VPN providers offer PPTP, L2TP/IPSec and OpenVPN. Some of the top VPN services additionally offer SSTP or SoftEther. Each protocol has its own encryption level and each protocol is advised to be used in different cases. But the main rule is: the higher level of encryption – the lower VPN speed. That is why, you will usually get better connection speeds with PPTP and L2TP/IPSec, as they use 128 bits encryption. You will get a lower connection speed with OpenVPN which is more encrypted but you have to pay with speed for that extra security. We don't advise to use OpenVPN for torrents downloading. SSTP has the best ratio of encryption level and speed but unfortunately it's available just on Windows.
ISP speed limitation
The speed which your ISP provides will also affect the speed of a VPN connection. Most high speed connections handle a minimum of 10 Mbps and may go up to 1 Gbps. In these cases the VPN speed won't be much affected. But anything less than this (as supplied by dial-up or 3G connections) can cause VPN connectivity issues.
Interconnection between the VPN provider and your ISP
Another factor depending of you ISP is the interconnection level of VPN provider with your ISP. Even if you have a 50 Mbps connection and this interconnection is poor you can't get the best from this VPN service. Also, in some cases and for some reason, the higher your standard internet connection the more speed you "lose" in percent. For example, if you have 5 Mbps connection, you'll lose just 10-20% of bandwidth, and if you have 100 Mbps you can lose even more than a half of your connection if you connect to a VPN.
Processor Speed
To give you more of an advantage you will want to use your VPN on a computer equipped with a faster processor or CPU, as this can create a faster connection for you.
Reliability
Look for a reliable VPN service provider that has the least amount of data packet loss – the best are those that offer a 0% packet loss.
Firewall Settings
When setting up a VPN connection make sure your computer's firewall setting is set so that the VPN can flow through consistently. Often firewall settings don't affect the VPN but do affect the CPU speed which could make VPN slow down Internet connection.
Bottom Line
So does VPN affect speed? Make sure to check all of these specifications when choosing your VPN service provider. Reliable services often have VPN servers in many different countries, thereby allowing you to choose one that is nearest your country. Avoid simply choosing a VPN because you like the country it is located in. To answer the question posed earlier – "Does a VPN slow down internet?", you can't expect a fast VPN service when you don't have the right equipment or Internet service to support it. Contracting a VPN will not make an existing slow Internet connection any faster, and will impede an already slow connection even further, especially when more than one factor is influencing this slowness.
Try VPN for Free
Leave a Comment