Bypass All Restrictions With a VPN for Skype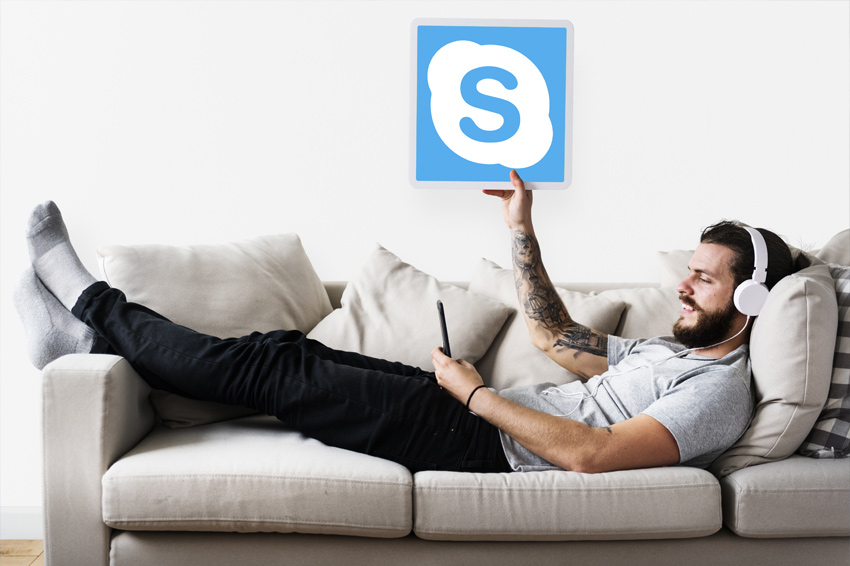 With nearly 300 million active users each month, it's safe to say that Skype is one of the most popular and successful VoIP services out there. It's easy to use, free, and offers pretty stable connections.
There's just one problem – many people around the world can't use the service. Fortunately, that issue can be quickly solved if you use a VPN for Skype. Here's all you need to know about that.
Why Do You Need a VPN for Skype in the First Place?
It's true that Skype is available worldwide, and is also free to use (well, as long as you don't make calls to landline or mobile numbers, of course). Despite that, you might still not be able to access and use the service due to various reasons:
Governments Censor Skype
While Skype itself doesn't use geo-restrictions to prevent people from certain countries from using the service, some governments might use firewalls to block the service altogether instead. The ban period can be long-term, temporary, or indefinite, and – in some countries – there's no telling when it can occur.
Here are some of the most notable examples of Skype being censored around the globe:
Other countries where Skype continues to be blocked, or was blocked in the past include Belize, Kuwait, Vietnam, Venezuela, Brazil, Guyana, Qatar, Oman, Syria, Egypt, Libya, Tunisia, and Jordan.
Why do many countries block Skype? It's usually because some governments want people to use their own VoIP services, so that they can better track online users in their country. That, and they might also want to shut down any competition their own national ISP services might have because of these convenient VoIP platforms. Political, religious, and security-related reasons can also be at play.
Your ISP Can Block Skype
If you happen to live in or travel through one of the countries we mentioned above, the ISP you will be using to connect to the web will more than likely block access to Skype if the government requests it.
However, sometimes, ISPs can block Skype even if you are in a country where the service should normally be available. For example, an ISP who offers both telecommunication and Internet services could block Skype because they consider it a competitor. Alternatively, they might block the app because it eats up too much of their network bandwidth (basically, because too many of their clients use it).
Skype Can Be Blocked at Work or School
Unfortunately, even if your government or ISP aren't preventing you from using Skype, you might still not be able to use the service if your workplace or school's network admin is required to block the service with a firewall.
Why would something like that be a requirement? Because the company or school might think their employees/students would "slack off too much" if they'd be able to use Skype to talk with their friends. Some companies might even restrict access to Skype alongside any other VoIP service to prevent employees from leaking sensitive company info.
Whichever the case, it's hardly fair that you can't get to relax chatting with your best friend or significant other when taking a break from studying or work.
How to Get Skype Unblocked With a VPN Service
Don't worry – you don't have to do anything that's too complicated or time-consuming. You just need to install a VPN service, run it, and connect to a VPN server in a country where Skype isn't blocked by the government. Once you do that, you'll be able to instantly use Skype.
If you're dealing with work/school firewall restrictions or ISP blocking, it's enough to connect to a VPN server in your country, or the country that's nearest to you. As long as your real IP address is hidden, no firewall will be able to restrict your online activities anymore.
Need a Good VPN for Skype?
CactusVPN has you covered. We offer high-speed servers, unlimited bandwidth, and powerful encryption. Plus, if you want to use a VPN on more devices, you'll be happy to know we have user-friendly apps for the most popular platforms, and that you can use our service on as many devices as you want with just one subscription.
Special Deal! Get CactusVPN for $3.5/mo!
And once you do become a CactusVPN customer, we'll still have your back with a 30-day money-back guarantee.
"Can I Use a Free VPN to Unblock Skype?"
It's tempting to do that, but it's not really worth it. Here's a quick overview of why free VPNs aren't good options:
Free VPN servers often experience a lot of downtime, and they can be overcrowded, which means you'll get slow speeds.
Free VPN providers can't usually afford to offer unlimited bandwidth or customer support, meaning you'll need to put up with bandwidth caps and the fact that you'll be on your own if anything goes wrong.
With a free VPN, you're going to be exposed to tons of ads. They need to make money somehow, right?
Free VPN providers can log your data, and sell it to third-party advertisers.
If you use a free VPN, you can be exposed to malware, and you can have your bandwidth stolen and sold.
If you'd like to learn more about how free VPNs compare to paid VPNs, check out this in-depth article we wrote about that topic.
3 Other Reasons to Use a VPN for Skype
1. You'll Get Better Security/Privacy
Skype offers pretty decent security – especially since it now provides end-to-end encryption with 256-bit AES. However, if you really care about your online privacy, you should know a couple of things:
Back in 2014, cybercriminals were able to exploit a flaw in Skype to eavesdrop on Android online communications. While that issue happened a few years ago, and it was solved, what's to say new security vulnerabilities won't appear in the future again? Sure, they will likely be solved too, but during that period, your traffic will be vulnerable.
After Microsoft purchased Skype back in 2011, they implemented eavesdropping capabilities for Russian, US, and Chinese law enforcement agencies. There's not a lot of recent info about that right now, so it's hard to say if those backdoors are still active or not. Even if they allegedly aren't, how can you be 100% sure Microsoft is telling the truth? That's a company that willingly collaborates with the NSA, after all.
Even if you were to ignore all of the above, using a VPN for Skype will still provide you an extra layer of privacy that will help you keep annoying "personalized" ads at bay. Basically, since your Skype traffic and usage will no longer be so easily tracked, third-party advertisers won't have such an easy time bombarding you with Skype-related ads on the web. Also, your traffic will be much safer when using public WiFi.
2. You Won't Have to Deal With Bandwidth Throttling Anymore
If you're not familiar with bandwidth throttling, here's an article that might help you understand it. Basically, it's when your ISP limits user bandwidth in an attempt to get rid of network congestion. It's also a way for them to try and make more money by pressuring users into paying for a bigger data plan or pricier subscription.
Luckily, if you use a VPN for Skype, you won't need to worry about your ISP lowering your speeds because you're "spending too much data on Skype." They won't be able to see what you're doing online, so they won't manage to throttle your bandwidth.
3. You Might Get Better Pricing
Skype might be free to use, but if you plan on making any calls to landline or mobile numbers, you're going to have to pay for them. The fees can normally be covered if you buy Skype Credit or get a Skype subscription. Depending on what country you are from, the rates can be pretty expensive, though.
"Okay, but what's that got to do with a VPN? Call rates vary according to what country you're calling, not where you're calling from."
Yes, that's true, but here's the thing – the total cost-per-minute will be different depending on your telecom provider. With some providers, you can get much better deals. We actually found out that with a Netherlands or Romanian IP address, we got a Skype deal that offered unlimited minutes for $7-8 per month. However, when we switched to a Polish IP address, the price dropped to around $4 per month – pretty much a half-price discount!
Overall, it's not guaranteed that a VPN for Skype will help you save money, but there's a chance that can happen, so it's worth trying out if you're looking to enjoy better call rates.
Can You Use a Proxy for Skype to Get the Same Results?
Well, in theory, a proxy server should let you unblock Skype since it hides your IP address and handles connection requests on your behalf. So, firewall restrictions shouldn't be an issue. But the problem is that many proxy servers are often overcrowded and unstable (especially the "free" servers). That, and proxies don't exactly offer the same level of security VPNs do.
Besides all that, it seems that you need to make sure you're using a proxy server that has been specifically configured to connect to Skype – at least according to Skype's own website. So, make sure you ask any proxy provider about that before using their services.
Also, you should know that a proxy server won't 100% let you unblock Skype's mobile applications. Proxies are generally used to unblock websites and web apps, not apps. Of course, there's always a chance you might be successful, but just keep in mind that you'll have better odds of unblocking Skype for Web instead.
All in all, it's a safer bet to just use a VPN provider whose servers double as proxy servers. That way, you get the best of both worlds, and always have a backup plan if one service doesn't work for you.
In Conclusion
Skype might be available worldwide, but that doesn't mean you won't have to deal with obstacles when trying to use the service. If you live in or visit a country whose government decides to block Skype, you won't be able to use it anymore. Also, if your ISP, workplace, or learning institution decides to block Skype on their network, you'll be out of luck as well.
Luckily, a VPN for Skype can help you overcome those obstacles with ease. Since it can hide your real IP address, you'll be able to bypass any firewall restrictions that stand in your way. Plus, you'll get to enjoy:
Better privacy and security.
Peace of mind knowing bandwidth throttling is no longer a problem.
Potentially more cost-efficient call rates.
Just make sure you're not using a free VPN since they aren't reliable. Also, while you might manage to unblock Skype with a proxy, it's not guaranteed to work all the time, so keep that in mind.
In the end, your best bet is to use a VPN service. If you're really set on using proxy servers, then pick a VPN provider whose servers double as proxy servers too.