How to Watch ABC in Canada Really Simple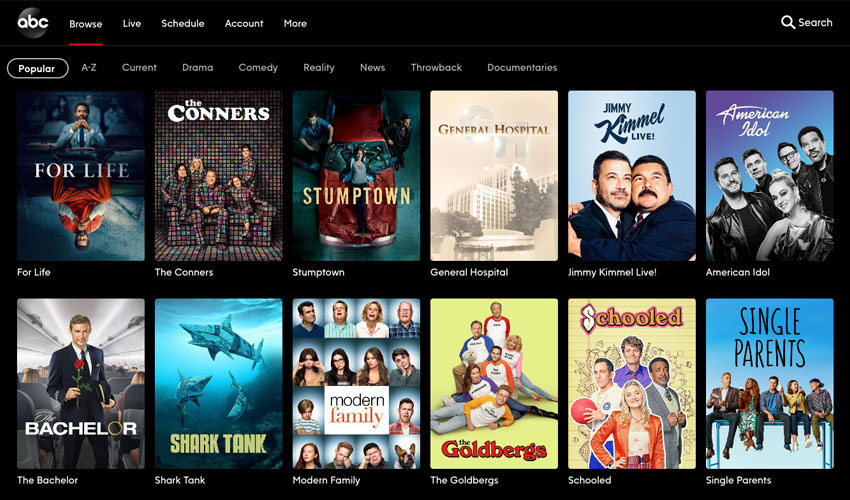 ABC has a lot of great content – Modern Family, Lost, The Rookie, The Good Doctor. The list could go on and on. But, sadly, you can't enjoy it in Canada since it's only available in the US.
Don't worry, though – we'll show you how to watch ABC in Canada without having to do anything difficult.
Wait – I Can't Watch ABC Live in Canada?
Sadly, no. The service only works in the US for now.
If you actually try to watch content on the platform outside the country, you'll have to pick a TV provider, most of which are in the US. But even if you already have a TV provider from the US, you still won't be able to stream ABC in Canada because you'll get Error Code: 403-1-1028.

How does the platform manage to restrict your access? Pretty simple – they use geo-restrictions which allow them to blacklist countries, stopping Internet users from those places from successfully connecting to the website.
As for why they do it, there's no exact reason. It's probably due to copyright and licensing regulations, though.
How to Watch ABC in Canada (3 Things You Can Try)
Getting around geo-restrictions isn't too hard. All you need to do is hide your geo-location when you're online, which you can actually do in three ways:
1. Use a Smart DNS Service
Smart DNS services are pretty popular when it comes to unblocking geo-restricted content. They are online tools that hide your geo-location by using a mix of DNS servers and proxy servers.
Here's how the unblocking process works:
The Smart DNS replaces your real DNS address with one of its own. It does that because your DNS address can leak data about your geo-location.
The service also intercepts your connections to ABC's website, and replaces any data in them that might reveal your geo-location with new information that points to a whitelisted geographical area (in this case, the US).
Lastly, a Smart DNS will route your traffic through different proxy servers around the world.
It all sounds pretty complicated, but the process isn't noticeable for you. It all happens very fast, and it won't get in the way of your entertainment.
2. Run a VPN Connection
If you're not familiar with VPNs, they are online services that hide your IP address and encrypt your Internet traffic.
By masking your IP address, a VPN will help you bypass geo-blocks since they won't be able to tell what your real geo-location is. Don't forget – your IP address reveals a lot of info about you – including what country you are from.
But that's not all. Since VPNs encrypt your traffic, they help you binge all the ABC content you want without having to worry about your ISP throttling your bandwidth (basically, intentionally lowering your speeds).
And using a VPN is very simple. Just run the VPN client, and connect to a server in the US. You'll be able to watch ABC live in Canada in seconds that way.
3. Try a Proxy Server
Just like a VPN, a proxy server can also hide your IP address. Basically, it intercepts all your connection requests to ABC's website, and forwards them to the platform on your behalf. When it intercepts the requests, the server replaces your real IP address with its own address.
A proxy will do something different than a VPN, though. It can actually save web pages on its local cache. If you request them, it won't have to forward your requests to the web since it can retrieve them from the local cache. Because of that, you might get pretty fast load times.
What's the Best Way to Enjoy an ABC Canada Stream?
With three options to choose from, it might be tough to pick a service. Well, they all have their pros and cons, so which one works best for you is totally up to your personal preferences. To make things easier for you, here's a quick overview of what you might and might not like about these services:
VPNs – They offer great security, and help you bypass firewalls alongside geo-blocks by hiding your IP address. Plus, they prevent bandwidth throttling. The only downside is that your speeds might go down a bit if you're using a resource-intensive protocol like OpenVPN.
Proxies – Like VPNs, they let you get around geo-restrictions and firewalls. But they don't offer the same level of encryption (so preventing bandwidth throttling is off the table), and proxy servers tend to get overcrowded fast, resulting in slow speeds. Oh, and the content the servers save on their local cache isn't always up-to-date.
Smart DNS – Great for unblocking content. These services don't offer encryption (so no security), but – because of that – they let you enjoy your original ISP speeds. You might be annoyed that they don't hide your IP address, though, since you can't bypass school/workplace firewalls.
If you still have trouble deciding, one thing you could do is use a service that offers access to all those unblocking options. That way, if one doesn't work well for you, or you don't like it, you can always fall back on the other two options.
Start to Stream ABC in Canada With CactusVPN Today!
CactusVPN offers a three-in-one service – a VPN with military-grade encryption, high-speed servers that also double as proxies, and an easy-to-use Smart DNS service.
Our VPN service comes with unlimited bandwidth, lightweight protocols like IKEv2, L2TP/IPSec, and SoftEther, and also supports up to five simultaneous connections.
And our Smart DNS service won't just help you unblock ABC in Canada. It will also give you access to 300+ other popular websites from around the world.
As for our proxies, you get to enjoy quality servers at no extra cost!
Special Deal! Get CactusVPN for $3.5/mo!
And once you do become a CactusVPN customer, we'll still have your back with a 30-day money-back guarantee.
Conclusion
ABC has tons of amazing content, but you can't enjoy it if you're not in the US. Yep, not even if you're in Canada. And not even if you're from the US and are vacationing in or moving to Canada.
Luckily, you don't need to spend hours learning how to watch ABC in Canada. There are actually easy ways to bypass the geo-blocks – just use a VPN, proxy, or Smart DNS. Or, even better, use a service that offers access to all of them.