How to Watch ZEE5 in USA (Simple Guide)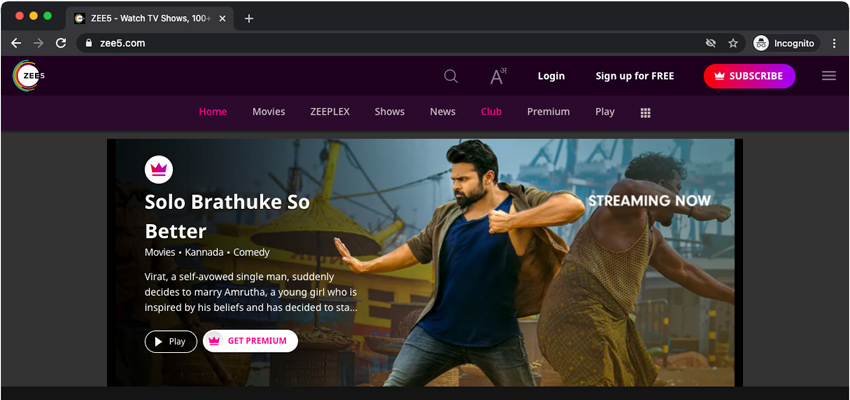 Feeling down because you can't enjoy the latest hit shows on ZEE5 in the US?
No problem – we'll show you how to watch ZEE5 in USA with two very simple unblocking tools.
Where Is ZEE5 Available?
Funny enough, the site is available almost worldwide – around 190 countries, to be exact. Unfortunately, it still hasn't launched in the US yet. If you visit ZEE5 from there, you'll just see this message: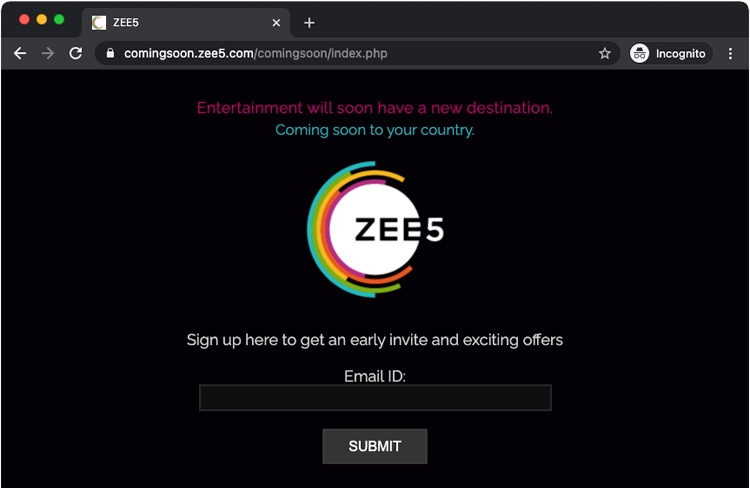 Why isn't ZEE5 available in the US, though?
It's hard to say, but it's likely due to licensing agreements. Basically, ZEE5 can't buy the licensing rights for the US because other sites own them.
So, ZEE5 has no choice but to geo-block its site to prevent anyone from the US from watching shows and movies on it.
How to Watch ZEE5 in USA (2 Options)
It's obvious you need to stop ZEE5 from seeing where you're from.
But how do you do that?
Based on our tests, the easiest way to bypass ZEE5's geo-blocks is to either use a VPN or a Smart DNS. Here's a quick look at each service:
VPNs
VPNs are online tools that hide your IP address. That way, the sites you visit can't tell what your geo-location is.
These services also encrypt your traffic, preventing your ISP from seeing what you're doing online. That way, they can't throttle your bandwidth whenever you binge sites like ZEE5 for hours on end.
Smart DNS Services
A Smart DNS also hides your geo-location, but it does it differently than a VPN. Instead of hiding your IP, it tweaks your DNS queries to make sure there's no data that could be linked to the country where you're from.
These services also change your DNS address (so that you're not using your ISP's DNS server), and send your traffic through proxy servers in countries where ZEE5 (or any other site you want to unblock) is available.
Unlike VPNs, Smart DNS services don't encrypt your traffic. Many people like that, however, since it means their streaming speeds won't slow down.
How to Watch ZEE5 in USA (Step-by-Step Guide)
Download one of our many apps.
Install and run the app.
Enable our Smart DNS service.
That's it – head to ZEE5 and have fun!
Need a Good ZEE5 Unblocker?
Why not try CactusVPN?
We have Indian servers, unlimited bandwidth, and easy-to-use apps for pretty much all platforms. We also offer WireGuard, so you can use it to get the fastest speeds and lowest server connection times.
What's more, our VPN servers double as proxies. Also, we have a Smart DNS too! It can unblock dozens of Indian servers – as well as 340+ sites from other countries too.
Special Deal! Get CactusVPN for $3.5/mo!
And once you do become a CactusVPN customer, we'll still have your back with a 30-day money-back guarantee.
Can Proxy Servers Let You Watch ZEE5 Outside India?
They might, but we can't guarantee they'll work all the time – especially if they're free proxies. In that case, they don't refresh their IPs often enough, and ZEE5 might detect them. Plus, you'll have to settle for very slow speeds too.
If you want to use a proxy, try subscribing to a VPN whose servers double as proxies (CactusVPN does that).
Do You Need to Use Indian VPN Servers?
We can't say for sure. Yes, ZEE5 is available in most countries, so you could unblock it using a server in a nearby country like Canada. That way, you get better speeds since it takes less time for data packets to travel between your device and the VPN server.
But here's the catch – there's a chance the content library in those countries is more limited. Think of how Netflix works. It's available worldwide, sure, but not all its titles are available in all countries.
We personally suggest using an Indian server to make sure you get all titles. If the speeds are too slow, use the Smart DNS instead.
Watching ZEE5 in the US – The TL;DR Version
ZEE5 isn't available in the US, so you'll need to use a VPN or a Smart DNS to hide your geo-location. If you use a VPN, make sure you use Indian servers to get access to all the titles.
How do you like to watch ZEE5 outside India? Please tell us in the comments.