To sign in to VPN you should make sure the "VPN" tab (5) is selected on the sign in screen.

Enter your VPN username and password (6). You can find them in the your account on our website, by going to your package. Make sure you use your VPN username and password and NOT the website account credentials (What is the difference?).

You can save them for later usage (7).

Tap on "Sign in" button (8).

If you forgot your credentials you can request a password reset (9).

On this screen you can also order our VPN + Smart DNS package (9) if you still don't have one.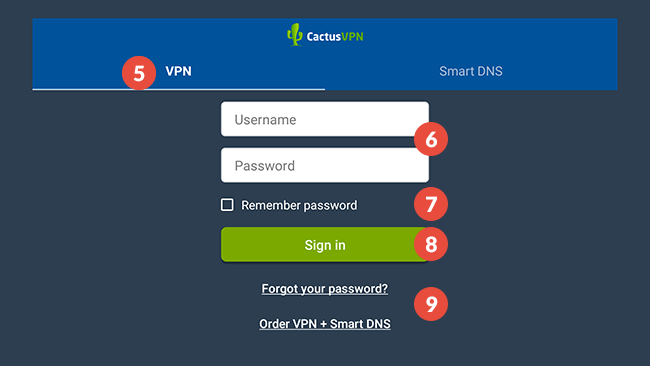 You'll see all the Settings:

"Sign in at app start" – automatically signs in when the app starts.

"Connect VPN on sign in" – automatically connect to VPN after signing in.

"Hide app on connect" – hide the CactusVPN app after connecting to VPN.

"Reconnect if connection dropped" – automatically reconnect if connection is dropped.

"Start on boot" – starts the app automatically when the Fire boots.

"Group servers by country when sorting by speed" – when you sort VPN servers by speed, they will be grouped by country.

"OpenVPN protocol" – choose the OpenVPN protocol you want to use: TCP or UDP.

"OpenVPN port" – choose the OpenVPN port you want to use.