Get the Best VPN for Multiple Devices Right Now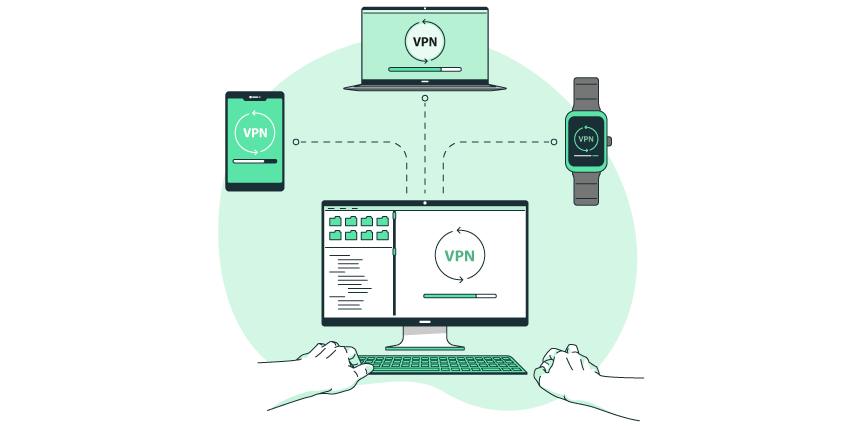 Should a VPN work on multiple devices or just one or two?
We've been asked that a lot lately, and we saw some people on Reddit wondering about that too. We'll tell you why a multi-device VPN is the right pick in this article, and we'll also show you how CactusVPN is the best VPN for multiple devices.
Why Do You Need a Multi-Device VPN?
Isn't it enough if a VPN works on one device as long as it's a popular platform? Like Windows or macOS?
Sure, for some people, that might be all they need. But let's face it – most of you don't only use one device to go online. Data already show that the average consumer household has around 11 web-connected devices.
Even if we ignore the statistics, it's a safe bet that you use at least two or three connected devices – your personal computer, smartphone, and laptop when you browse the web at coffee shops or on vacation, for example.
Plus, what about those of you who have families? Why get a different subscription for each family member when you can just use one for multiple devices? A VPN subscription usually averages around $5 per month (so $60 per year). Instead of paying three or four times that, you're much better off saving money with just one payment.
And money aside, there isn't a single good reason to only use a VPN on one platform. These tools offer amazing perks, and it'd be a shame not to enjoy them on every one of your devices.
Multi-Device VPN Use Case
Here's a simple example that should show you how using the best VPN for all devices is better than just one platform.
Let's say you have a VPN installed on your PC and you use it to watch Netflix. You're getting ready for bed, but still want to watch a few episodes of The Office or Dexter before falling asleep. Obviously, doing that at your PC isn't as comfortable as watching Netflix on your tablet or smartphone in bed.
Here's how that situation would play out depending on the VPN:
Single-Device VPN – You have to log out of the VPN app on your PC or disconnect from the VPN server, then log in and reconnect on your tablet or smartphone.
Multi-Device VPN – You hop into bed and start watching right away!
It's pretty obvious which option is better.
And that's just one situation out of many. With a multi-device VPN, you never have to worry about not being able to do online banking on your smartphone using public WiFi because you forgot to log out of the VPN app on your main device. And you never have to choose which device you want to enjoy real online privacy on.
The list of scenarios can go on and on. But you get the idea – using the best VPN for multiple devices is always the right move.
How Many Devices Can You Use a VPN on?
Usually, somewhere around 3 to 5 devices. Some providers might "go the extra mile" and let you set up a VPN on up to 10 devices, which is definitely nice.
But a few providers will make things extremely convenient for you, and let you use their service on an unlimited number of devices with the same subscription. And you don't need to use any workarounds like setting up the VPN on a router. You just buy one subscription, and install the VPN on as many platforms as you want.
CactusVPN – The Best VPN for Multiple Devices
We offer a highly secure VPN service that offers tons of user-friendly apps on multiple platforms: Windows, macOS, iOS, Android, Android TV, Amazon Fire TV/Stick, Chrome, Firefox.
And here's what you'll definitely love – with just one CactusVPN subscription, you can use the service on an unlimited number of devices!
So if you need to use a really good VPN with unlimited devices, give CactusVPN a try.
Special Deal! Get CactusVPN for $3.5/mo!
And once you do become a CactusVPN customer, we'll still have your back with a 30-day money-back guarantee.
Other Perks
What else makes CactusVPN the best multi device VPN?
Here are other features you can enjoy:
Powerful encryption (AES-256 and AES-128)
High-speed servers that double as proxies
Built-in Smart DNS that unblocks 320+ sites
Six VPN protocols (OpenVPN, IKEv2, SoftEther, SSTP, L2TP/IPSec, PPTP)
P2P support
Absolutely no logs
Unlimited bandwidth
DNS leak protection
A kill switch and an app killer to protect yourself from traffic leaks
Obfsproxy and DNS-over-HTTPS
What Devices Do VPNs Work on?
There are surprisingly a lot of platforms that offer native support for VPN apps and connections. Here's a list of the devices you should be able to install or set up a VPN on:
Windows
Linux
macOS
iOS
Android
Android TV
Amazon Fire TV
Fire TV Stick
BlackBerry
Solaris
FreeBSD
Boxee Box
Chromebook
e-readers (like Kindle Fire)
Routers
Synology NAS
Can You Use a VPN on Platforms Without Native Support?
Yes, it is possible. There are actually two ways of doing that:
1. Set Up the VPN on a Router
This is our favorite way of solving that problem. Basically, if you configure a VPN to run on a router, any device connected to that router will use the VPN connection when going online. It'd look something like this:

Setting up a VPN on a router isn't extremely simple, but it should be an easier task if you use our tutorials.
2. Share Your VPN Connection
In this case, you'll have to connect the device to your computer or laptop through an ethernet cable. Then, you share your Internet connection with said device (which includes the VPN connection).
This method is obviously less convenient than configuring the VPN on a router. If you'd like to try it, though, here are some step-by-step tutorials that should make things easier.
Just remember to use lightweight protocols like IKEv2 or L2TP/IPSec since your speeds will be lower.with this method.
How Many Devices Do You Use a VPN on?
Three? Four? Eleven?
Please let us know in the comments because we're really curious to find out what's the average number of devices people use VPNs on.
Also, if you know other platforms that natively support VPNs, please mention them.