How to Watch Hotstar Outside India (Unblock Hotstar in Just 5 Easy Steps!)
Hotstar is home to amazing titles like Anupama, Laxmii, Triples, Sadak 2, Santhwanam, and Mulan. But to enjoy that content, you'll have to unblock Hotstar first.
Don't know where to start?
No problem – we'll show you how to watch Hotstar outside India in this quick guide.
Does Hotstar Work Outside India?
Yes and no. Things are a bit tricky, actually.
Here's the thing – Hotstar isn't a stand-alone website. It has different versions in different countries (think of how Netflix works).
For example, the site works in the US, the UK, Canada, and Singapore under the title Hotstar. However, there's also Disney+ Hotstar which is only available in India and Indonesia.
The Indian Disney+ Hotstar is the highlight since it has the most content – hundreds of Indian titles + Disney Plus originals and all Disney movies (available in local languages: Hindi, Tamil, and Telugu).
Unfortunately, if you try to visit the Indian library from other countries, you'll get a message telling you the videos aren't available in your area.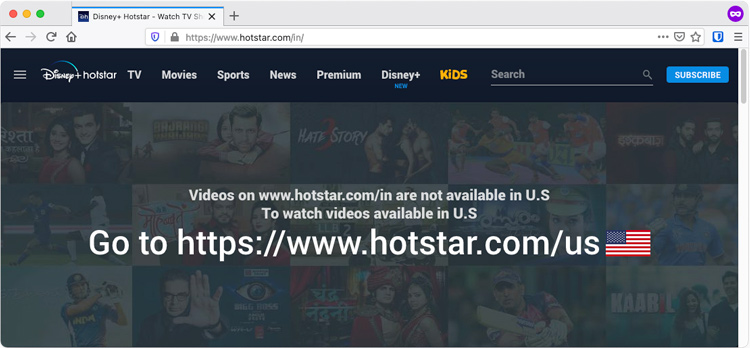 Yes, even if you're from Indonesia. You'll just end up on the Indonesian content library.
And if you're from the EU, you'll get this special message: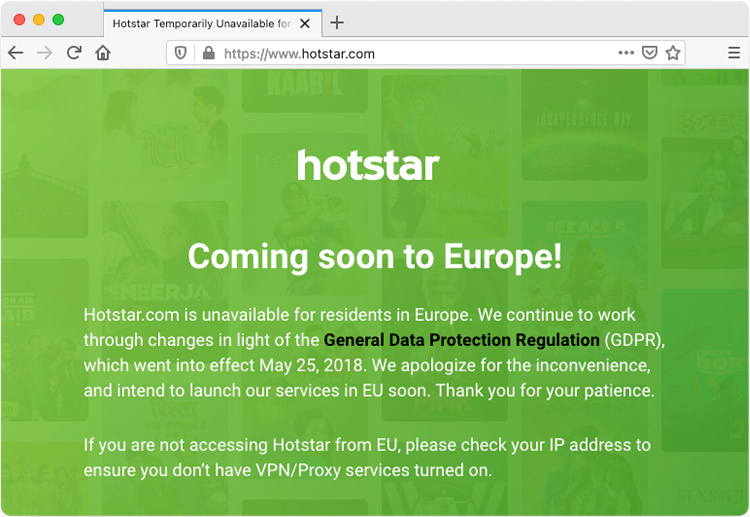 So if you want to watch Indian titles, you'll need to unblock Hotstar first.
How to Unblock Hotstar Outside India (2 Methods That Work)
To circumvent the site's geo-blocks, you need to hide your geo-location. Right now, there are two ways of doing that (which work):
1. Use a VPN
VPNs are online services that hide your geo-location by stopping sites from seeing your IP address. They do that by routing your traffic through a VPN server that sits between you and the sites you visit.
With Hotstar, you'd use an Indian VPN server to hide your IP address. When you visit the site, it'll only see the VPN's IP. Since it's an Indian address, it will whitelist your access.
One cool perk of using a VPN is that you can get rid of bandwidth throttling. The service encrypts your traffic, so your ISP won't know what you're doing online anymore.
2. Use a Smart DNS
A Smart DNS hides your geo-location by changing your device's DNS settings. That way, you don't use your ISP's DNS server anymore, so it won't leak your location.
Besides that, Smart DNS tools tweak your DNS queries to make sure they don't reveal where you're from. Also, they route your traffic through proxy servers located in countries where the content you want to unblock is available (India in this case).
Unlike VPNs, Smart DNS services don't use any encryption. Bandwidth throttling can still be an issue, but – on the plus side – your original speeds won't suffer at all.
Which Service Should You Use?
It's up to you, really. Just keep in mind it'll be harder to unblock Hotstar with a VPN. The site is pretty aggressive when it comes to detecting and blocking them.
That's not to say Hotstart can't block Smart DNS services. But, for the moment at least, they don't seem to focus on them too much.
If you'd like our opinion, you should use both unblockers. That way, when one fails, you have the other to rely on.
And no, you don't need to pay for two different services. If you get a CactusVPN subscription, you get access to both tools.
How to Watch Hotstar Outside India Right Now (5 Steps)
Download the right app for your device.
Install and run our app.
Enable our Smart DNS.
Head to Hotstar and start having fun!
Why You Should Use CactusVPN to Start Watching Hotstar Outside India
If you want to unblock Hotstar today, you can use CactusVPN. We offer a three-in-one solution: VPN, proxy, and Smart DNS.
Our Smart DNS lets you instantly unblock Hotstar. And if you ever get bored of it, there are 10 other Indian websites (Voot, Zee5, etc) and 330+ other websites to have fun with.
Special Deal! Get CactusVPN for $3.5/mo!
And once you do become a CactusVPN customer, we'll still have your back with a 30-day money-back guarantee.
What Does the Hotstar Content Not Available in Your Region Message Mean?
If you see this message, it apparently means Hotstar caught you using an unblocker (VPN, proxy, Smart DNS).
To get rid of it, they recommend disabling the unblocking tool. Obviously, that's not in your best interest. So here's what you can try instead:
Connect to a different VPN server.
Restart the VPN/Smart DNS app.
Clear your browser's cookies and cache.
Use a different web browser.
Use your browser's incognito/private mode.
If nothing works, contact the provider's support team. They should be able to help you out.
The Bottom Line
Hotstar might be available in other countries, but the bulk of its Indian and Disney entertainment is only available in India. To watch it, you should either use a VPN for Hotstar or a Smart DNS. In our experience, Smart DNS services work better.