How to set up OpenVPN on iPad
In this tutorial we will show you how to set up OpenVPN on iPad but first let's see what are our requirements and recommendations.
If you still want to set up OpenVPN manually, go step-by-step through following instructions:
Install and configure the OpenVPN Connect app
OpenVPN protocol requires the OpenVPN Connect app to be installed. Download and install it.

Start the OpenVPN Connect app and tap Agree.

Download the OpenVPN Configuration Files and unzip the downloaded file.

You can find lots of free apps in app store that can help you do that. In this tutorial we have used Unzip.

Using the Unzip app, open the folder you unzipped in the previous step.

Select the server you want to use, tap on Share and tap on Copy to OpenVPN.

This will start OpenVPN Connect app.

Tap on ADD to import the selected configuration file.

Type your VPN username in the Username field, tick the Save password checkbox and type your VPN password in the Password field.

You can find your VPN username and password in your account on our website, by going to Settings. Make sure you use your VPN username and password and NOT the web account credentials (What is the difference?).

Tap ADD.

Tap on Allow to allow the OpenVPN Connect app to add VPN Configurations on your device.
Connect to VPN
Tap the on/off toggle button to connect/disconnect VPN.
Only the first time you will try to connect to VPN you will be asked to allow OpenVPN to enable a VPN connection. Tap Yes.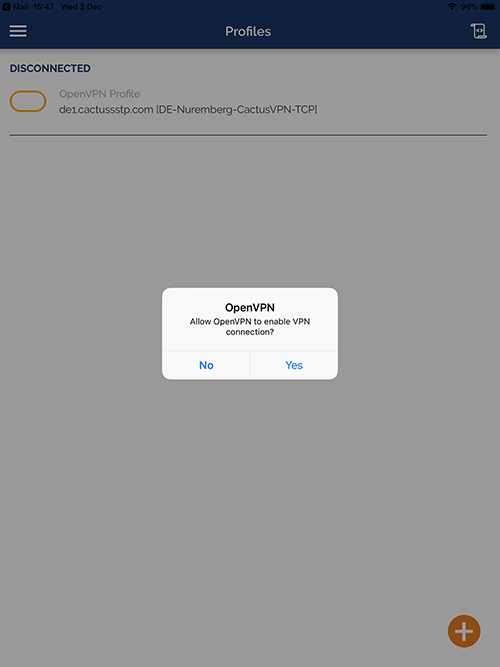 Once accepted, OpenVPN will connect.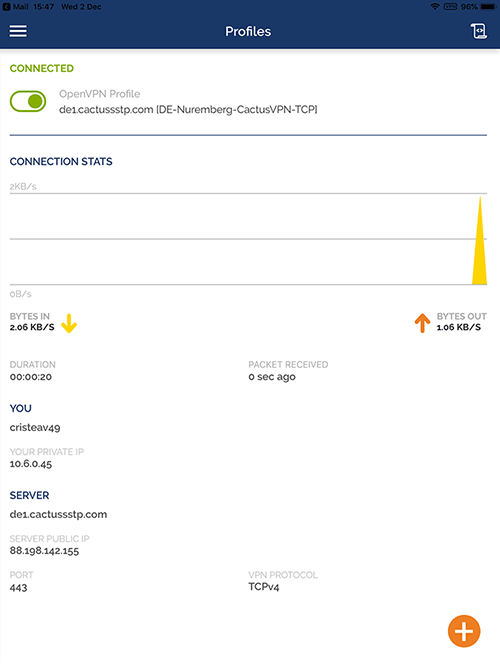 If you want to delete the profile, select the Edit option for the profile you want to delete and tap Delete Profile.