Here's Exactly Why You Need to Use a VoIP VPN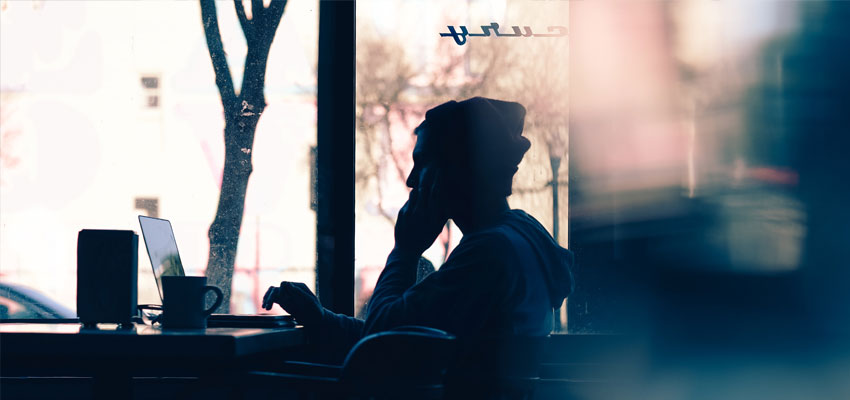 Picture this – you just landed a sweet gig as a freelancer for a client that pays well. They were impressed with your work, and want to hire you, but there's just one problem – they need to schedule a VoIP call with you. And you live in a country where VoIP services are blocked.
Annoying, right? That's just one example out of many, but – luckily – the solution is the same: Using a VoIP VPN.
What is VPN?
VPN (Virtual Private Network) is a technology that hides your IP address and encrypts all the incoming and outgoing data while you use the Internet. This way you gain anonymity and remain safe as no one can see what are you doing whilst you are surfing the Internet. Find out more in our article.
VPN is a nifty tool that will also come in handy if:
You are traveling abroad, and want to call your family back home.
You live in a country that blocks VoIP, and want to call your friends who live in different countries.
You have a business in a country that blocks VoIP, and need to hold voice/video calls with remote employees.
You're at work/school on a break, and want to talk with your parents, but the workplace/learning institution blocks VoIP on their network.
Why Do Some Countries Block VoIP Services Anyway?
It's mainly due to reasons such as:
Telecom monopolies in a country being scared they will lose revenue because of VoIP.
Governments not liking the fact that Skype calls can be a bit harder to track.
Bureaucratic issues that can prevent VoIP providers to get a license to operate in a certain country.
What Countries Block VoIP Services?
Here's a list of places where most VoIP services are blocked:
Belize
Brazil
Various Caribbean countries
China
Egypt
Jordan
Kuwait
Mexico
Morocco
North & South Korea
Oman
Pakistan
Qatar
Paraguay
The United Arab Emirates
Please keep in mind that this list doesn't mean that these countries block VoIP services continuously. Some do, but – in many cases – VoIP services can be blocked for a specific period of time, usually during a period of political turmoil or protests.

And don't forget that there's always a chance a VoIP block might be enforced in a country that's not on the list too.
Of course, whether you need continuous access to VoIP services, or only want to use them once in a while, not being able to do so because your government or telecom doesn't like them is hardly tolerable.
Sometimes, a VPN Block Goes Beyond Geography
Your workplace or learning institution's firewall could also block access to VoIP services. Not to say something like that happens all the time, but it is likely.
For example, if you boss or teacher thinks you might be using Skype to chat with your friends instead of working/learning, they could have it blocked on the network.
It might seem counterintuitive when it comes to an office environment, but keep in mind a company can just use chat/call software developed by them, or a specific VoIP service – one you and your friends probably don't use.
How Does a VPN VoIP Help with That?
Put simply, a VPN will set up a private, encrypted "tunnel" over the web for you, a "tunnel" through which your VoIP traffic will be redirected and secured. As a result, you'll be able to bypass firewall restrictions, and make the calls you want.
At the same time, a Voice over IP VPN will mask your real IP address, replacing it with the address of the VPN server you connect to. That allows you to become anonymous online – to a certain degree, naturally – and access VoIP applications even in countries where they are blocked.
What Other Benefits Does a VoIP VPN Offer?
Better Pricing
In certain countries, you have to pay call rates when you make a VoIP call to a landline or mobile number. And the rates can get a bit pricey – depending on where you are calling from.
True, with services like Skype, the call rates vary depending on the country you call instead of where you are calling from. However, the cost per minute can still vary according to your telecom provider, as well as the number of destinations you can call, and whether or not you get unlimited minutes.
For example, if you're in Romania or the Netherlands, a subscription with unlimited minutes on Skype can go up to $7-8/month. However, if you connect to a VPN server in Poland, you would be able to enjoy a much better deal – around $4 per month.
So, there's a chance that you might get better deals from a VoIP provider when you switch locations by connecting to different VPN servers.
Enhanced Security
ISPs can monitor your VoIP traffic if they want to. The same could be said about your government. If you'd like to keep your calls private, a VPN would really come in handy since it can encrypt your VoIP traffic to keep it surveillance-free.

Not only that, but it also keeps it safe from hackers. After all, despite Skype's claims of being encrypted, there are ways cybercriminals can exploit to snoop in on your calls.
And if Skype can be exploited, there's always a risk that other VoIP applications can be exploited too.
No More Bandwidth Throttling
If you use VoIP calls very often, and end up making calls that last for hours, there is a chance your ISP might begin throttling your bandwidth when you start using up "too much" data. When that happens, your VoIP calls might take a hit when it comes to connection speeds.
What is bandwidth throttling?
Bandwidth throttling is the intentional internet speed limiting practice that slows down available bandwidth (internet speed) through an internet service provider (ISP).
Sure, your ISP might claim they're doing that to get rid of network congestion, but let's be serious – they're more likely doing it to "convince" you to upgrade to a pricier data plan.
But since a VPN doesn't allow your ISP to keep an eye on your online traffic – which includes your VoIP traffic – you won't have to worry about this.
VoIP VPNs and Speeds
Depending on what kind of VPN protocol and encryption you use, you might experience speed loss every once in a while. That can generally happen if a VPN provider doesn't let you switch between VPN protocols.
Of course, if you will need strong encryption to secure your VoIP traffic, you will have to put up with the lower speeds – it's the trade-off you get for better security and less surveillance.
As a general rule of thumb, you should try to connect to a VPN server in a country that's close to you – if possible.
How Can You Set Up a VPN for VoIP?
On PC and Mac, it's usually enough to just install a VPN client, connect to a VPN server, and you're good to go. On Linux, it is possible to configure a VPN too.
If you want to make VoIP calls on your mobile devices, you'll just need to choose a VPN provider that offers mobile app versions of their client.
In case you need full VoIP access for an entire office, a good idea would be to set up a VPN on a router that has firmware which allows it – like DD-WRT or Tomato-enabled routers.
CactusVPN – The Best VPN for VoIP
Whether you need to call your best friend from another country, or share some sensitive work files with your colleagues over Skype, we've got you covered.
CactusVPN comes equipped with high-end encryption. You can use our OpenVPN protocol to make sure nobody manages to snoop in on your VoIP calls.
If you are just looking for fast, unhindered VoIP calls, though, you can just switch to our other less-encrypted protocol – PPTP. What it lacks in security, it makes up for in speed.
We've got servers all over the world – Europe, the US, Canada, and Asia Pacific. Bypassing VoIP censorship will be extremely easy, and – who knows – you might also manage to find some better deals too.
And your investment will be 100% safe, as we offer a 30-day money-back guarantee too.
Need a Reliable VPN Service?
Protect online privacy, secure your connection and access blocked websites
Try CactusVPN For Free