You can pay VPN with cashU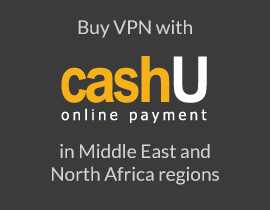 VPN service gets bigger and bigger every month. There are a plenty of reasons for that: all that NSA fuss, big copyright companies that gets closer and closer looks on what you download. And of course one of the reasons is desire to unblock certain US and UK sites. For some countries the need of VPN is even more vital: without it they cannot access almost everything is interesting in Internet. This happens a lot in some more or less authoritarian states from Middle East and North Africa.

Until now it was difficult to them to order VPN because of the lack of PayPal accounts in those countries. Credit Cards also were not an option for everybody. But several days ago, in partnership with cashU we make all the payments easier than anything before. If you live in any country where cashU is available, I'm sure you already know how this works. If not – it's really simple and you can find out how to use it on their websie.
So, if you still wonder how to pay for CactusVPN service here are the options:
Credit Card – All over the world
PayPal – 193 countries and teritories
Alipay – China
Webmoney – Russia
Yandex.Money – Russia
Boleto Bancario – Brazil
Qiwi – Russia, China, Brazil, India, South Africa, Romania, Panama, Peru, Chile, Malaysia, Vietnam, Argentina, Colombia, Serbia, Latvia, Ukraine, Georgia, Belarus, Moldova, Kazakhstan, Tajikistan and Kyrgyzstan
cashU – Middle East and North Africa region
Buy VPN Now
Posted on September 4th, 2013 in
News