Smart DNS vs VPN services. Advantages and disadvantages.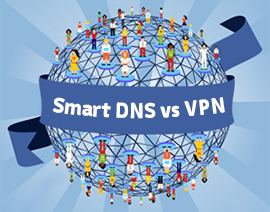 Let's admit that we feel extremely tempted and a bit confused when it comes to choose between two products that at first glance appear to us equally useful. This can happen to us when comparing two services which are extremely good: Smart DNS vs VPN.

Even though we wrote earlier what is a VPN service and what is a Smart DNS service, even if we are aware of the criteria, the properties that are the foundation of these two services and the possibilities they offer, we need to know to make a distinction between them, so that we can make a good choice. In order to make the right decision and to identify which of them is most appropriate service to our needs and desires, we need to extract the advantages and disadvantages of each product.
Smart DNS is a service that unblocks regional restricted websites, on the other hand VPN offers privacy and security when browsing the internet. So let's see who's the winners of the Smart DNS vs VPN battle.
VPN
Advantages
VPN is a service that allows you to change your IP address choosing from IP addresses made ​​available by multiple servers located in different countries. One of the biggest advantage of our VPN Service, is that with VPN your identity is hidden when browsing. What refers to unblocking, you might use VPN to unblock a restricted site by choosing your IP from the region the blocked website comes from.
Disadvantages
Unlike Smart DNS, VPN won't let you enjoy your provider's original speed. As VPN speed depends on many factors and it is usually 30% lower than original one.
Smart DNS
Advantages
Smart DNS is a service that unblocks regional restricted sites that do not expose their content to users from other countries. It is a simple method to access regional restricted websites from anywhere in the world using original provider's speed, without many changes in your device. Smart DNS comes with an advantage: it offers direct access to the pre-unblocked sites with no loss of speed. So, what does Smart DNS do is: directly unblocks each site. By the way is good for you to know that we have one of the largest list of unblocked websites on the market.
Disadvantages
The disadvantage that Smart DNS has, is the fact that it doesn't offer privacy and anonymity while surfing the internet as VPN does. With Smart DNS your IP is not hidden. Also the VPN service is used in order to get a better personal security while being connected to a public WiFi, which is another VPN advantage.
Smart DNS vs VPN conclusion
If you need a service that will allow you to watch restricted media with your original speed or, in other words will let you to unblock regional restricted websites, then Smart DNS is the right service for you.
At the same time VPN is known as the best solution for hiding your surfing behavior.
We came up with "a picture" of advantages and disadvantages of VPN and Smart DNS services. All you have to do now is to pick one :)
With CactusVPN you have both services so you can choose what is better for you in a particular case.
Try Smart DNS for Free
Leave a Comment