What Is the Netflix Proxy Error? (How to Fix It)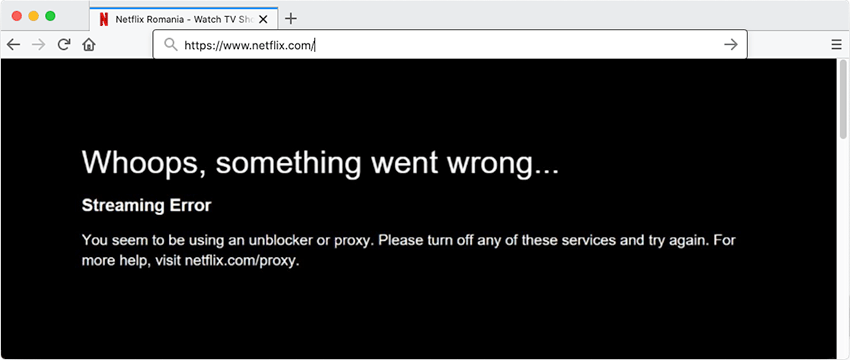 At least until you see the Netflix proxy error.
That doesn't have to be the end of the good times, though. We'll tell you all about that error in this article, including how to bypass it.
What Is Error Code: M7111-5059?
It's an error message you might get from Netflix if the site detects you're using a proxy or a VPN to visit its website.
The message will be something along the lines of "you seem to be using an unblocker or proxy."
People who try to unblock Netflix US from abroad will usually see this message. However, people in the US who use VPNs to avoid bandwidth throttling while binging Netflix are also likely to see it.
How Does Netflix Know I'm Using a Proxy or a VPN?
It's hard to say. While Netflix started blocking proxies and VPNs back in 2016, it has yet to disclose how exactly they do that. It kinda makes sense they don't do that cause it'd make it easier for unblocking tools to circumvent their methods.
So what follows are just our speculations about how Netflix proxy detection works. Overall, we think there are five ways they could potentially do that:
1. They See Multiple Sign-ins from the Same IP Address
When you use a VPN or proxy with static IP addresses, you'll share the server's address with many other users.
Well, if most of those users decide to watch Netflix, the site might see that as proxy/VPN behavior – especially if they do it at the same time.
Don't forget – Netflix allows you to use up to four devices simultaneously on its platform. If the site sees 20+ different signups from the IP address you're using, it will naturally assume the address belongs to a VPN or proxy server.
2. They Look Up VPN IP Addresses
A simple instant IP address look-up tool is all Netflix needs to find out if an address belongs to a VPN or proxy server.
How can they tell it does?
It's simple – they look at the ISP, and google the company. If it's a data center, it's very likely a proxy/VPN IP address.
For instance, if you were to look up the IP address of our New York VPN server, you'd see the ISP is listed as "NuclearFallout Enterprises Inc." If you google that, the first result will be a landing page from NFOservers (a company that offers servers rentals).
Obviously, Netflix likely doesn't have a huge dedicated team of people that manually check every single IP address. They probably use a script to automatically check IP addresses and detect addresses from data centers (like the IP2Proxy script).
3. Check Your Tracking Cookies
Instead of Netflix just checking your account login cookies, the site might check if your browser has tracking cookies from multiple geographical areas.
If it does, Netflix will assume you're using a VPN or proxy. Why? Well think about it – your IP address is telling Netflix you're from the US, but your browser might tell it your geo-location is Germany, France, or Brazil.
4. Netflix Might Block Data Center Traffic Routes
You could automatically get the Netflix proxy error if the site blocks traffic routes from data centers associated with VPNs and proxies. We already showed you how they can find out what data centers proxies and VPNs use, so blocking traffic from them is really not that hard.
Plus, check out the Open Connect program that's run by Netflix. According to it, there might be a chance Netflix partners up with residential ISPs to make sure its site only accepts "legitimate" traffic routes.
5. Netflix Could Use Digital Mapping Services
For example, they could work with a company like IP2Location that specializes in finding in-depth info about IP addresses (not just the country and city, but also the area code, weather station data, and elevation).
That company actually has a dedicated service that offers access to a database full of Tor, proxy, and VPN IP addresses. The price starts at $399 per year, and goes up to $3.999 per year. So it's definitely something Netflix could afford to heavily invest in.
Please note we're not saying Netflix 100% works with IP2Location. We're saying they are likely using a company that offers those kinds of services.
How to Fix the Netflix Proxy Error
Based on our experience and tests, here's what you should try:
Restart the VPN connection or the VPN app. Wait a few seconds before reconnecting/restarting the client.
Try connecting to a different VPN server. Make sure it's in the same country as the Netflix library you want to unblock.
If your VPN app isn't up-to-date, run the latest updates. If you don't, there's a chance the app won't refresh IP addresses or – even worse – leak them.
Clear your browser's cookies before visiting Netflix. Also, consider using incognito mode.
Using a free VPN or proxy? Switch to a paid one. Free services often can't keep up with Netflix's blocks because they lack the financial resources and infrastructure to do it.
Does Using a Kill Switch Help?
It should help. If you're not familiar, a Kill Switch shuts down your web access when your VPN connection goes down. It sounds extreme, yes, but it stops your real IP address from being leaked to Netflix. As far as we know, proxies don't usually offer this feature.
Normally, when your VPN connection goes down, you should get the geo-location error message. However, if it disconnects multiple times in a short period, Netflix might detect the multiple IP changes as proxy or VPN behavior.
So, you'll get the Netflix proxy error.
If you use CactusVPN, you can easily turn on the Kill Switch in our app. Just head to Settings, and under the VPN section switch Stop internet traffic if VPN connection is dropped to the ON position (the slider should turn green).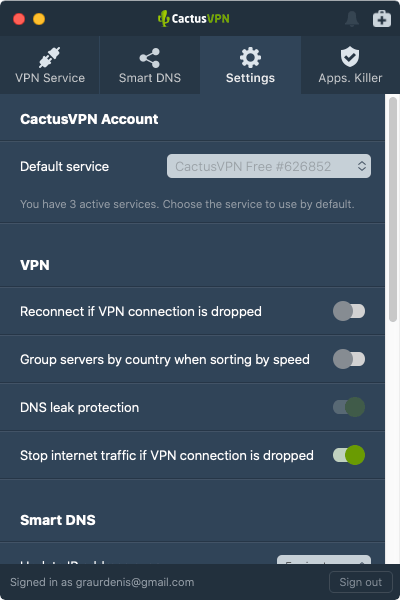 We also offer an App. Killer feature – a more "lightweight" version of the Kill Switch. Basically, it will shut down Internet access for specific apps instead of the whole device.
To use it, head to App. Killer (next to Settings), and hit Add app. Then just add the browser or app you use to watch Netflix, and you're good to go.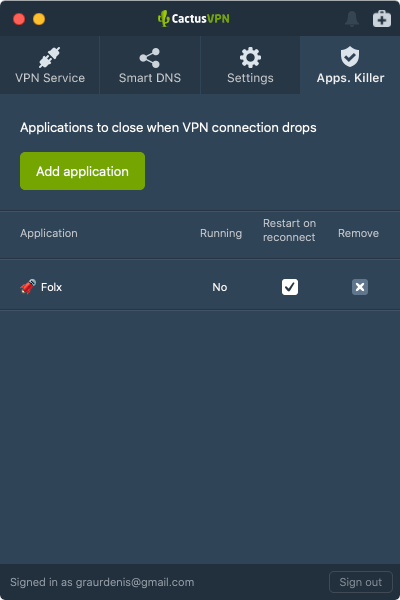 If you don't have a CactusVPN account, sign up for a free trial right here.
Nothing Worked? Fix the Netflix Proxy Error with a Smart DNS Then
Netflix targets proxies and VPNs a lot, so it might be worth using a service that flies a bit under the radar – like a Smart DNS.
If you're not familiar with it, it's an online tool that helps you unblock Netflix by:
Editing your DNS settings to make sure they don't leak your real geo-location.
Routing your traffic through proxies around the world (in this case, in the US).
Intercepting your requests to Netflix and replacing data that leaks your geo-location with new info that points to a whitelisted region.
So it doesn't make any changes to your IP address. Also, it doesn't encrypt your traffic either, meaning your online speeds won't suffer at all.
CactusVPN comes with a Smart DNS service, and enabling it is extremely simple. We'll show you how to do it on the Windows app, but the process is pretty much the same on any platform.
First, head to Settings, and switch the Website region under the Smart DNS section to USA.
Also, make sure the DNS Server is set to your region. So if you're in Italy, set it to Europe. You'll get better speeds that way.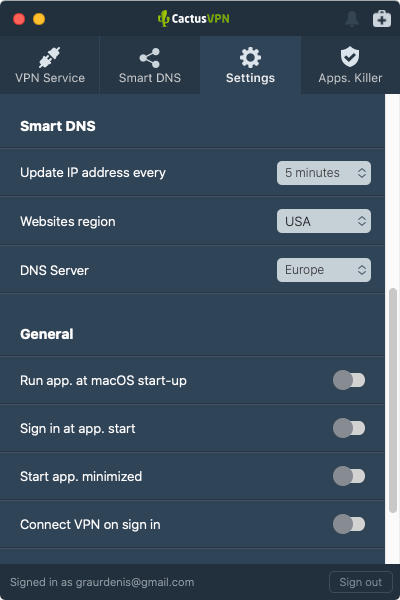 Next, head over to the Smart DNS section (next to Settings), and hit Enable Smart DNS. Then just start binging Netflix as much as you want.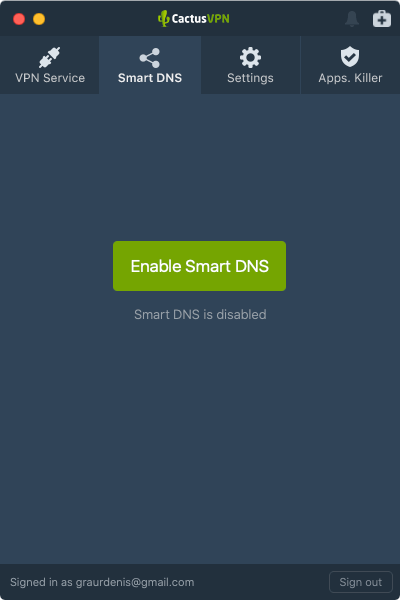 WARNING – Don't Use Free DNS Codes!
They're DNS addresses you can find online which are advertised as "free Smart DNSs." So free DNS servers, essentially.
Convenient? Sure.
Worth it? Not at all.
For starters, free DNS codes might work at first, but that won't last for long. Since the server is free to use, there are no financial incentives or means for the owner to keep up with Netflix's blocks.
Also, you'll deal with annoyingly slow speeds. While a Smart DNS doesn't normally interfere with your speeds, you will experience slowdowns if the server is overloaded and has limited bandwidth. Seeing how it's free and anyone can use it, that's 110% likely to happen.
And finally, consider the risk – you're using a DNS server a stranger set up and offered for free online. What if they're actually a cybercriminal who will use that server to run MITM attacks and redirect you to malicious phishing sites?
It's just not worth it – especially when you can get an all-in-one service (Smart DNS, VPN, and proxy) at reasonable prices.
Tips for Other M7111 Error Codes
If you're not getting Error Code: M7111-5059 specifically, but are still seeing the M7111 error code, it means you're dealing with some network or browser-related issue. Here's what you should do to make these errors go away:
M7111-1309 Error – You'll usually get this on Chrome. Try disabling different extensions to fix the problem.
M7111-1101 Error – Clear your browser's cookies and its cache.
M7111- 1331 Error – You can get this error if you access Netflix through bookmarks. Connect to it by manually typing the URL in the address bar.
When Should You Contact the VPN/Proxy Provider's Support about the Netflix Proxy Error?
When none of the tips we recommended worked for you. In that case, there's a chance the service is experiencing a problem with Netflix.
The support reps should be able to tell you:
Why the problem is happening.
What they are doing to fix it.
How long it will take to fix it.
Why Does Netflix Hate Proxies and VPNs So Much?
Netflix doesn't outright "hate" these services. It just doesn't have much of a choice when it comes to the content they don't own.
In that case, copyright agreements stop them from making those shows and movies available worldwide on their platform.
Why?
Because the copyright holder probably sold the distribution rights to different services in some countries.
For example, Netflix might have bought the right to stream a specific show in the US, but not in Canada. So the copyright holder sold the distribution rights for that show to a different streaming platform or local TV network there. Because of that, Netflix doesn't have the legal right to stream that content in Canada.
Luckily, many Netflix originals are available worldwide since Netflix owns the rights to them. However, there is an exception when they need to geo-block their own content: if they already sold the distribution rights for their show to a different network in a specific country.
Here's an example of that – Orange Is the New Black. As far as we know, you can't watch it on Netflix in Indonesia because the company sold the distribution rights to a local network before they decided to launch their service in that region.
If they were to stream it there, Netflix would need to buy back the rights. And the local network could ask for absurd prices.
I Keep Getting the Netflix Proxy Error Without Using a Proxy/VPN – What's Happening?
Believe it or not, that can happen. Here's why + what you can do:
Your ISP Uses DNS Servers in Other States
You might deal with this problem if you're in the US. Basically, instead of using a DNS server in the state you live in, they use one from a different state.
Because of that, Netflix might incorrectly assume you're using a proxy or VPN since the site will see an IP address from one state andt a DNS address from another state.
SOLUTION: Use a VPN or proxy that has DNS servers in your state, or change your DNS settings to OpenDNS (208.67.222.222 and 208.67.220.220) or Google Public DNS (8.8.8.8 and 8.8.4.4).
There's a Communication Error Between Your Device and Netflix
It's as simple as that – Netflix's servers have trouble communicating with your device, and they display the Netflix proxy error message.
SOLUTION: Try using a different device to visit Netflix. If you don't have one, wait a few minutes or hours before trying again with your current device.
There's a Conflict Between Your ISP and Netflix
This can happen due to all sorts of reasons:
Netflix blacklisted your ISP's IP blocks (maybe someone with those IPs was previously caught using VPNs/proxies too many times).
Your ISP uses web filtering software that works similar to a VPN, and it triggers the Netflix proxy error.
Your ISP made sudden changes to the network.
SOLUTION: Talk with your ISP about the problem, and pressure them to talk with Netflix to solve the issue. That pretty much means convincing Netflix to whitelist their IP blocks.
You're Dealing with Malware Infections
Your network or device got infected with malware which might be triggering the error message.
Why?
Who knows. Maybe the malware keeps changing your IP address or sending tons of malicious requests and traffic to Netflix's servers.
SOLUTION: Use antivirus programs (like Malwarebytes or ESET) to scan and clean your device. Also, keep them on at all times to protect your device or network from malware.
Have You Ever Dealt with the Netflix Proxy Error?
If yes, which of the solutions we mentioned worked best for you?
Or did you use other methods or tools to fix the problem?
Tell us all about it in the comments or on social media.