So, we decided to put this article together to help you quickly review what VPN features most providers generally offer – including short discussions regarding why some features are necessary.
What VPN Features Should VPN Providers Offer?
Before we begin, we should mention that it's not guaranteed that every single VPN provider you come across will offer the VPN features listed here. Our aim is to offer you a comprehensive understanding of what kinds of VPN features you should look for when choosing a VPN provider.
1. Strong Encryption
Powerful encryption is a must-have for any VPN service. Without it, there's a chance your ISP (or anyone else, for that matter) could monitor what you do on the Internet – not to mention hackers might be able to steal sensitive data from you (like credit card info and login credentials) when you use WiFi networks.
As a general rule of thumb, AES encryption is always a good sign (both AES-128 and AES-256). It's an advanced encryption standard that's used even by the NSA, Microsoft, and Apple, and it has yet to be officially broken as far as we know. If you want more assurance, consider this – according to security experts, it'd even take a supercomputer 1 billion billion years to crack AES-128.
2. Secure VPN Protocols
Any reliable VPN provider would provide you with the ability to connect to a server using OpenVPN – the most secure VPN protocol out there. It's not the only protocol that's deemed safe, though. Here are other examples of reliable VPN protocols:
Of course, it doesn't hurt if the VPN provider lets you use less-secure VPN protocols (like PPTP, for example) too – maybe you sometimes just need to quickly unblock geo-restricted content on the go, and online security isn't a concern right then and there. Don't forget – the stronger the encryption is, the likelier it is your connections might slow down a bit (though, that isn't always guaranteed to happen, but it's worth keeping in mind).
Overall, VPN protocol variety and the ability to choose between protocols before you connect to a VPN server is something all decent VPN providers offer.
3. DNS Leak Protection
If you're not familiar with DNS leaks, it's basically when the browser's DNS requests are sent to your ISP's DNS server directly without running them through the VPN. Also, DNS stands for Domain Name System, and it's used to translate IP addresses into website names, and the other way around.
As a result, a DNS leak can actually let your ISP (and any other eavesdroppers) see what websites you are accessing even if you are using a VPN.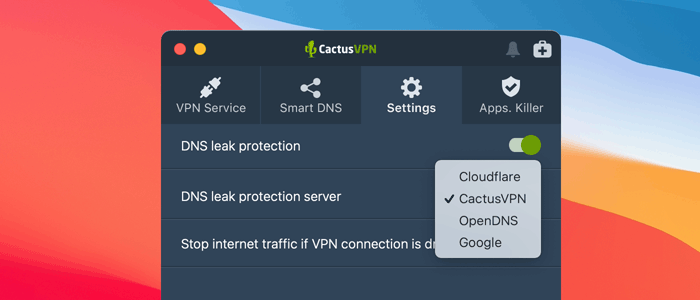 Now, this doesn't necessarily happen with a lot of VPN services (it's quite common with split-tunnel VPNs, though), but – to be safe – we recommend only choosing a VPN provider that actively offers DNS leak protection.
4. A VPN Kill Switch
A VPN Kill Switch is a tool that essentially cuts off all Internet access on your device if your connection to a VPN server drops. As harsh as that might sound, it's one of the most valuable features of VPN services since it protects you from being accidentally exposed on the web.
Let's face it – sometimes, you might experience connectivity issues to a VPN server. That can happen due to the distance between you and the server, or because your device's WiFi card is outdated or is experiencing problems.
No matter the reason, if that happens, your real IP address and online traffic will be exposed. With a Kill Switch, however, all your traffic is instantly stopped in such a situation until you can properly reconnect to the VPN server.
For some of you, it might sound like a hassle, but a Kill Switch is a smart way to make sure your personal information is never in danger on the web because of things that are out of your control.
5. An Apps. Killer
An Apps. Killer is similar to a Killswitch, but instead of cutting off your Internet traffic if your connection to the VPN server drops, it shuts down applications that use the web. Naturally, you have to choose the apps that are going to be shut down in such a situation.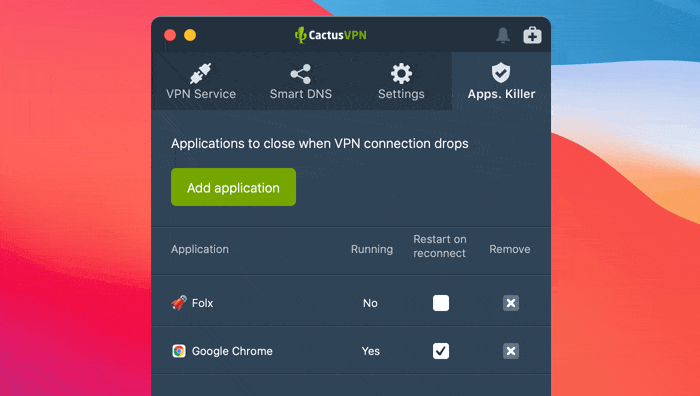 How would an Apps. Killer be useful, you ask? Well, say you play an online game with a VPN because you're afraid of getting DDoS'ed. If the VPN connection goes down, your online game is stopped to prevent DDoS'ers from targeting you. Another example would be using the Apps. Killer to shut down a torrent client if the VPN connection goes down so that your ISP doesn't realize what you are doing.
For the best results, you should look for a VPN provider that offers both a Killswitch and an Apps. Killer.
6. Shared IP Addresses
A VPN provider that offers dedicated IP addresses is a red flag because a dedicated IP address can be linked back to you. A shared IP address, like its name implies, is shared among VPN users, making it almost impossible to link online activities to specific VPN users.
Also, here's something else to consider – dedicated IP addresses cost VPN providers more, meaning they will end up charging you – the user – more for their services to cover their costs. A VPN provider that offers shared IP addresses is able to offer you much more cost-efficient services.
7. Support for Simultaneous Connections
If VPN providers link accounts to particular devices, that's a problem. If they do, it means you'll need extra subscriptions if you want to use the VPN service on multiple devices at the same time – or you'd have to sign out of your account on a device before signing into it on another one (quite annoying).
VPN providers that offer simultaneous connections on multiple devices are a better option simply due to the increased convenience.
8. Cross-Platform Compatible Apps
A VPN service that works on just 1-2 devices isn't very flexible, and that can be a problem since you – like many other people – likely own at least 3-4 devices you can access the web with (laptops, smart TVs, PCs/Macs, iOS/Android devices, and so on).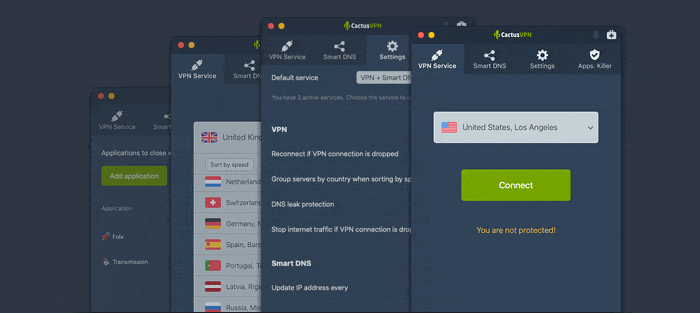 That's why decent VPN providers offer cross-platform compatible applications to ensure their service is available on multiple devices and operating systems. In case they can't offer an application for a certain device/OS (like Linux, for example), they'll still provide configuration files and tutorials so that users can set everything up.
9. High-Speed Servers
This is pretty much a no-brainer. Any VPN provider should (and most do) offer high-speed servers so that users can enjoy smooth experiences – especially since VPN encryption can sometimes cause some lag.
As an added bonus, some VPN providers like to offer unlimited bandwidth, and make sure their servers double as proxy servers too.
As for the number of servers, variety is important but you don't need to go overboard with it. Let's face it – you're not gonna need to have 1,000+ servers at your disposal. Usually, if there are over 10-20 worldwide servers to choose from, that's good enough.
Looking for a VPN That Provides All of the Above (And More)?
We've got you covered, we here at CactusVPN do our best to offer our users a smooth, safe, and convenient online experience through high-quality VPN features.
We provide high-end AES encryption, 30+ 1gbps servers from around the world (which also double as proxy servers – free of charge), unlimited bandwidth, a Kill Switch and an Apps Killer, and multiple user-friendly apps that work across many devices and operating systems, unlimited simultaneous connections, 7 VPN protocols (OpenVPN, WireGuard, SoftEther, IKEv2, SSTP, L2TP/IPSec, PPTP), a strict no-log policy.
If you want even more content variety than what our VPN servers offer, you can use our Smart DNS service to unblock over 300 geo-restricted websites from countries like the US, the UK, Canada, Australia, Switzerland, France, Sweden, Poland, Germany.
Special Deal! Get CactusVPN for $3.5/mo!
And once you do become a CactusVPN customer, we'll still have your back with a 30-day money-back guarantee.
Conclusion
When choosing a VPN provider, looking over the VPN features is paramount – the more secure, convenient, user-friendly, and privacy-focused they are, the better. To recap everything we've discussed, here's a quick list of the main VPN features most decent VPN providers offer:
Strong encryption (preferably AES)
Secure protocols (OpenVPN + a choice of others is ideal)
DNS Leak protection
A Killswitch
An Apps.Killer
Shared IP addresses
Support for multiple connections
Cross-platform compatible VPN clients
Fast servers (ideally with unlimited bandwidth)